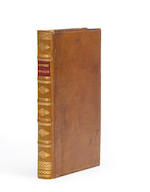 [MOREAU, JACOB NICOLAS, compiler. 1717-1804.]
The Mystery Reveal'd: Or, Truth brought to Light ... by a Patriot. London: W. Cater & S. Hope, 1759.
[2], 319 pp. 8vo (202 x 121 mm). Period calf gilt, rebacked to style. Some very light spotting at ends, tiny adhesion to title, binding edges scuffed.

SECOND EDITION IN ENGLISH, A HARSH CRITICISM OF MAJOR GEORGE WASHINGTON. This book is an important contribution in the war of words between the French and English concerning each other's conduct in the colonies. Included is the text of the secret documents seized from George Washington on his surrender at Fort Necessity in 1754. The French alleged that these papers proved that Washington murdered his adversary Joseph Coulon de Jumonville, a controversy that helped to spark the Seven Years' War. Horace Walpole described this episode as "a volley fired by a young Virginian in the backwoods of America [that] set the world on fire." Howes M787; Sabin 51661; Wroth American Bookshelf pp 22 & 40.
Provenance: anonymous armorial bookplate with motto "Manus haec tyrannis inimica"; bookplate of Gordon W. Jones.
Acquisition: Laird Park sale, Sotheby's New York, Nov 29, 2000, lot 245, $2,400.
Footnotes