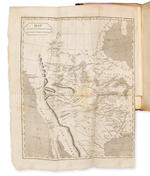 [LEWIS, MERIWETHER & WILLIAM CLARK.]
The Travels of Capts. Lewis and Clarke, by Order of the Government of the United States, performed in the Years 1804, 1805, & 1806, being Upwards of Three Thousand miles from St. Louis, by way of the Missouri, and Columbia Rivers, to the Pacifick Ocean.... Philadelphia: Hubbard Lester, 1809.
xii, [13]-300 pp. Folding engraved map: Map of the Country Inhabited by the Western Tribes of Indians, 243 x 204 mm; 5 engraved Indian portrait plates including frontispiece of "Sioux Queen" by W.R. Jones. 12mo (182 x 104 mm). Period mottled sheep, red morocco lettering-piece. Custom chemise and quarter morocco slipcase. Map reinserted and with a long, closed repaired tear, moderate foxing and browning throughout; joints showing and light wear to extremities.

FIRST EDITION OF THE LEWIS AND CLARK "APOCRYPHA" WHICH INCLUDES THE EARLIEST PUBLISHED MAP WITH LEGENDS STEMMING FROM LEWIS AND CLARK (Wheat). The text reprints President Jefferson's Message, letters of William Clark which had appeared in various newspapers, and a plagiarized amalgamation from the accounts of Jonathan Carver, Patrick Gass, and Alexander Mackenzie. The map, however, is original to the work and is rare. Lester's anthology is nevertheless one of the earliest accounts of the Lewis and Clark expedition. It inspired many imitators in its turn and as such was highly influential in the conception that Americans had of the West until the official account was finally published in 1814. Shaw & Shoemaker 17911; Howes L321; Streeter sale 3122; Wagner-Camp 8:1; Wheat Transmississippi West 294.
Provenance: ownership signature of John R. Thomas on title; early book label of George Thomas.
Acquisition: Laird Park sale, Sotheby's New York, Nov 29, 2000, lot 210, $10,800.
Footnotes