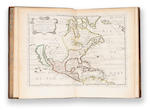 SANSON D'ABBEVILLE, NICOLAS. 1600-1667.
L'Amerique en plusieurs cartes nouvelles, et exactes. Paris: By the author, [c.1667].
[a]1 A-O4. [2], 112 pp. With 15 double-page engraved maps, hand-colored in outline. Manuscript map list bound in. 4to (245 x 176 mm). Period speckled calf. Slight edge-chipping to title-page and following leaf, small library inkstamps to title, versos of maps (showing through on final map) and to margin of Guadalajara map, toning, binding rebacked and edges worn.

Fine series of Sanson maps depicting the Americas, including the Caribbean Islands. California appears as an island on the general North America map and on the New Mexico & California map. Other North American maps depict Canada, Florida, and Mexico. This issue corresponds in imprint and text to Phillips 3d issue, but without the inserted final map dated 1667 and numbered "2a." Phillips Atlases 1153.
Provenance: Inner Temple Library, with their engraved bookplate, gilt stamp to upper cover, and inkstamps described above.
Acquisition: Sotheby's, Feb 26, 1998, lot 18, via Maggs Bros., 1998, $5,350.
Footnotes
Saleroom notices
The upper cover has started.