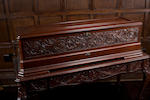 A rare Plerodiénique interchangeable cylinder music box-on-stand, by Mermod Fréres,
Circa 1894, retailed by Samuel Troll,
No. 15229,
with the four cylinders playing a variety of popular aria and operatic airs, large double-spring crank-wind motor, Jacot safety check, quadruple-dumbbell governor and connected speed regulator, twin ST stamped combs with large dome-head screws and washers, pin-less clutch band with five tuned teeth, jigsaw-linkage change/repeat connection bar, on painted silvered-finished reeded cast bedplate, in plain polished interior under bevelled glass dust-lid with lid stay, fielded panel lid interior, in carved mahogany case, with the cleat-panel centred lid having moulded raised edge, mitred-corner frame and slight-canted corners, the front profusely carved with geometric naturalistic scrolls, ferns, flower heads and leaves against poker-work ground, integral cylinder storage drawer in the plinth base for three cylinders, on the matching stand with compliment carving to the further storage drawer for another three cylinders, shaped front apron, on elegant carved cabriole legs with scroll foot toes and Rococo shield bosses, with the rare original ratchet crank with nickel-plated finish and ebonised handle -
49.1/2in wide the cylinders 20.3/4in and 3.1/2in. Diameter length to band from left 10in, stand width 58in. Total height with box 44in.
Footnotes