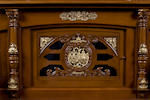 The exhibition Hupfeld Phonoliszt-Violina, Model B,
A unique and highly important commission-made model, reputedly built for the 1911 Exhibition in Turin, Italy;
Identification numbers:
171 stamped to the back panel
76 on the tracker bar spring clip
305 on all violin finger boards
26255 on the printed labels seen inside each of the three violins.

The violin and piano playing instrument comprising three violins playing strings tuning to D, A and E and bowed by a circular 1,350-strand horsehair bow cage, with integrated cross-strung Rönisch pianoforte, full expression to both piano and violins, black-finished pneumatics to violins, roll-bar and frame in black finished metal bearing the Mechaniké-Musik oOo Sr. K. K. H. D. Kronprinzen circular gilt exhibition plaques below tempo slide control, in fabulous opposing fully figured mahogany case of rich red hue, the violin section top centre of typical bowed profile with the Hupfeld brass inset banner above finely fretted triple panels, each with beige cloth backdrops, opening to reveal the tuned stringed instruments, eleven-tap finger bars and vibrato effect, with the air pipe pneumatic chambers behind, flanked by double panels with shaped insets, bearing central oval cartouche infils of coromandel and stained fruitwood inlays of musical instruments entwined within geometric classical frames, the bowed violin chamber underside with carved Rococo support before meeting the main piano top, rare non-standard roll chamber slide door with enlarged horizontal fret arch and boss medallion centre, quadruple half-turned columns with acanthus-leaf interruptions and scroll heads, keyfall to the seven-octave keyboard and full brass inset maker banners inside lower field, the keyboard platform raised on tapering squared carved supports bearing stylised acanthus-leaf heads upon turned thread stem appliqués, under tier panel of plain form with double incised motifs, cage plate pedal escutcheon above matching shaped arched toe plate, sides with handles in gilt metal, and the whole embellished with various spandrels, appliqués and sconces, including the double electroliers for keyboard illumination, with colored beaded shades, on casters.

The separate roll cabinet with nine-division fret-square glazed front, pleated beige cloth backdrop, opening to reveal twelve adjustable tilted shelves, square plinth with inner gilt appliqué roundel above matching lozenge and support toes, all in matching transitional Empire taste.

With 50 rolls, including a good selection of re-cut examples.
Height: 8 feet, 10 inches (2.69 meters). Width: 6 feet, 3 inches (1.90 meters). Depth: 2 feet, 8 inches (0.81 meter).
Footnotes