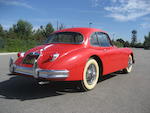 1959 Jaguar XK150S
Chassis no. T836282DN
The Jaguar XK model line is known the world over as one of the finest sports cars in existence. As far as pre-XKE models go, the most refined of the range was the top of the line XK150S, in 3.8 liter form.

The vehicle offered here is reported by the vendor to be an original XK150S Coupe which has recieved considerable restoration in recent years. It presents very well cosmetically. Mechanically this Jaguar has been fitted with a non-S, 3.8 liter engine as ewll as a 4-speed transmission, and is reported by the vendor to be a good driver which will provide considerable enjoyment on road events.
Saleroom notices
This lot has been added to the sale.