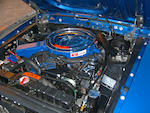 1969 Ford Mustang GT 390 Sports Roof Coupe
Chassis no. 9T02S134754
Nineteen sixty nine was a pivotal year for Ford's Mustang. A larger body permitted a full range of engines up to 370 bhp, and new styling added quad headlights. Bodies had new contours, and roof outlines were revised. The hardtop coupe gained a new greenhouse, and the previous fastback coupe was restyled and designated "Sports Roof." The convertible continued in production, and two new coupe body variations, Grande and Mach 1 were added. Available for all but Grande, Mach 1, six-cylinder cars and entry-level V8s was the GT equipment group, which included body stripes, hood scoop, hood locks and a pop-open GT fuel cap.

Freshly restored, this Mustang GT 390 is resplendent in its original color of Acapulco Blue. The interior is done in the original Black Kiwi Vinyl. Ordered through Ford's Atlanta district office, the car was built at the Metuchen, New Jersey, assembly plant, and completed on November 7, 1968. In addition to the 390 cubic inch four-barrel "S-code" engine, it has a C-6 Cruise-O-Matic transmission and 3.25 to 1 standard axle ratio. Optional equipment includes power steering, heavy-duty suspension, hood scoop, clock, AM radio, and the GT equipment group. Delivered to Akins Ford of Winder, Georgia, it was first sold on December 20, 1968.

A previous owner performed a body-off restoration during 2006-2008, including new paint, chrome and a rebuilt engine. The current owner restored the remaining items, at a cost in excess of $46,000, completing the job in 2009. The work was performed by Mustangs, Etc. in Van Nuys, California. The transmission was completely rebuilt, and the car received new glass, chrome and gauges, and a completely new interior. All wiring was replaced. Modifications made at this time included four-wheel power disc brakes, new radial tires, new battery and a chrome radiator overflow tank, as well as the welcome addition of factory-style air conditioning. It runs cool and smoothly, with no rattles.

Included with the car are age-appropriate California black plates and a build report from Marti Auto Works. One of fewer than 2,000 1969 Mustang Sports Roof cars with its paint and trim combination, this is a fairly rare Mustang GT, with the desirable 320 bhp 390 engine. A turn-key collectible with much attention lavished upon it, this Mustang is bound to please a new owner.