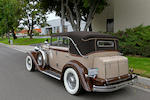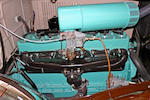 1932 Chrysler CP-8 Convertible Sedan
Chassis no. 7527699
This rare 1932 Chrysler CP-8 Convertible Sedan—one of two known to exist—was a display car at the 1932 Chicago Auto Show, where it was purchased by the famed Bechtel family of San Francisco. In 1943, the car was obtained by Pebble Beach resident Fred Wildenradt. Many decades later, he would personally relay the car's early ownership history to the vendor.

In 1952, Mr. Wildenradt replaced the car's original engine with a 1941 Chrysler Thunderbolt eight he'd acquired from a Chrysler dealership. The Convertible Sedan, evidencing a 1970s restoration, had made its way to a Wisconsin collection when it was located by the vendor, who subsequently purchased it and brought it back to California.

During 2008-2010, an exacting restoration was carried out by the vendor, with the beautiful two-tone paint being done by Poor Boys Hot Rods of La Habra. The effort and expense that went into the project is evident in the resplendent car presented here.

A correct 298-cubic inch 1932 Chrysler CP-8 engine was obtained by the vendor for the car. The 100-hp inline eight was rebuilt by Pick's Racing Engines of Santa Ana, where it was dynamometer tested to ensure its performance. (Meanwhile, the 1941 Thunderbolt engine was reunited with its original chassis!)

The CP-8 Convertible Sedan was built on a 125-inch wheelbase, double-drop girder-truss chassis introduced by Chrysler in mid-1932. As with other 1932 Chryslers, the CP-8's styling was obviously inspired by the contemporary Cord L-29. Only 251 of the handsome CP-8 four-door convertibles were produced.

Standard equipment on the 1932 CP-8 Convertible Sedan included wire wheels with dual side mounts, and a rear trunk. Befitting its former show vehicle status, this example is further equipped with numerous factory and period-authentic accessories, including chromed wheels, metal side mount covers with chrome bands and mirrors, a chromed grille stone guard, and dual spotlights and driving lights.

This freshly restored Chrysler CP-8 represents an opportunity to acquire a dazzling, authentic and exceedingly rare example of an early 1930s convertible sedan that was built on a superb chassis. It will turn heads today as surely as it must have at the 1932 Chicago Auto Show.
Saleroom notices
This Lot has been withdrawn from the sale.