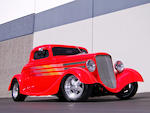 1934 Ford 3-Window Coupe Hot Rod
Chassis no. 18974898
The modern street rod offered here is based on a 1934 Ford Three Window Coupe with the smooth body contours accented by hidden door hinges. Other accouterments include power steering and brakes, power windows (including the rear window, allowing good cabin ventilation) and a tilt steering wheel. On warmer days, the passengers are coddled by air conditioning and when the air is more temperate, one can enjoy the rumble seat. Cruise control allows a relaxing highway drive to events

This car was modeled on the famous Eliminator of ZZ Top fame. The Eliminator was on the cover of the famous Texas rock group's similarly named 1983 album, which went on to be the most successful of the band's legendary hit records. The car became forever linked with the bearded band when it was used in music videos of three of the Eliminator album's biggest hits, "Gimmie All Your Lovin'", "Legs" and "Sharp Dressed Man". In each video, a band member offered the keys to The Eliminator to the main character.

This street rod is loaded with charisma and quality build features such as its Billet Specialties wheels. The same manufacturer provided the steering wheel. The custom corduroy and plush grey interior includes bucket seats and a stunning instrument cluster. With fewer than 4,000 miles, the car is yet to be broken in. Because of its resemblance to one of the most notorious rods of its generation, the new owner will find that it can turn heads on a leisurely trip to the grocery store or a long Route 66 hot rod run attended by the most knowledgeable rodders.
Saleroom notices
This Lot has been added to the sale.