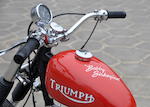 Ex-Bobby Sirkegian, 1953/54 AMA/NHRA Pomona Drag Races 650cc Gas Class winner
1952 Triumph Thunderbird "Pretty Boy II"
Frame no. 5265N
Engine no. 6TD819
Young Bobby Sirkegian, just 12 years old and not yet 5 feet tall, was an unlikely drag-racing pioneer. He'd been born to two wheels, with a father who rode factory board-trackers for Indian, Harley and Excelsior on the wooden speed bowls that dotted the country in the Twenties and Thirties. After the war, Bob Sirkegian Sr. opened a Triumph dealership that for a time was the company's biggest west of the Mississippi.

Bobby Jr. was a natural on a motorcycle, riding in the dirt from age 6 on a converted Corgi paratrooper bike painted up to look like one of the Triumphs sitting in his father's showroom. Then in the early 1950s father and son were spectating at one of the many dragstrips then popping up all over Southern California when 12-year-old Bobby announced he wanted to give this newfangled quarter-mile sprinting a try.

Success was almost immediate for Bobby, capitalizing on his quick reflexes and superior power-to-weight ratio, even if at first Dad had to balance the bike from behind at the start line because his son was still too small to plant his feet flat on the ground! The elder Sirkegian also contributed his own motorcycle to the effort, a 500cc Triumph 5T bob-job so well turned out it was nicknamed "Pretty Boy." It would soon be joined by the subject of this sale, Pretty Boy II, a 1952 Thunderbird 650.

In 1953, running at the first-ever sanctioned drag race championships in Pomona, California–what would become the NHRA Nationals–Sirkegian took wins in both the 500 and 650cc classes. The kid was a double champ at age 13! He repeated the feat in '54. Eventually there would be three Pretty Boys; I and II running on gas, III inhaling a potent nitromethane mix, and the wins kept coming. Before he quit drag racing to concentrate on AMA flat-track competition, the teenager had amassed more than 200 wins and set track records from California to Kansas City. Sirkegian and his bikes were featured in mainstream publications and even made it onto the nationally syndicated television show "You Asked For It."

Pretty Boy II got its speed from a hopped-up motor put together by ace wrench man Fred Ford. He paid particular attention to the top end, which ran oversize valves and S&W springs in flow-benched cylinder head. A lightened valvetrain with special Iskendarian cams and followers did its part, as did high-compression pistons and a custom twin-carb setup with remotely mounted floatbowls to combat fuel starvation at high rpm.

When Sirkegian retired from racing, he took over operations at the family BSA dealership then went on to a long career as a trade-school instructor, but he always kept the Triumph dragbikes. Several years ago, all three were immaculately restored by Bobby himself. Since then, Pretty Boy II has spent most of its time on display the NHRA Museum in Pomona, not far from the site of its historic national championship win. Here's a rare chance to own a museum-piece motorcycle, then, restored by the very man who rode it into the record books.