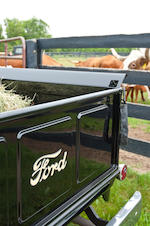 Rare Canadian Model
1950 Ford F-47 Half-Ton Pickup
Chassis no. BD83H50-8939
Engine no. 0E-1085
The first Ford factory outside the United States, the Ford Motor Company Canada, Limited, always marched to a slightly different drummer. Established at Walkerville, Ontario, outside Windsor, by Gordon McGregor on August 10, 1904, its first products were the Models B and C of 1904-5. When the Model T was introduced, production also began in Canada.

But while Ford's overseas plants generally adhered to the admittedly arcane corporation system of nomenclature, Canada was fiercely independent. Canadian Model Ts had a C prefix on their engine numbers. Model As used a recurring "typewriter pattern," with a third character of Q, W, E, R, T, Y and so on, changing in sequence so that serial numbers never need rise above 9999.

On January 16, 1948, Ford Motor Company introduced a vastly-redesigned truck line, the first since World War II. All-new sheet metal included the first new cab since 1938. Seating comfort and ease of entry were greatly enhanced. A gently rounded outline looked pleasingly plump, giving rise to today's affectionate term "Fat-Fendered Ford."

With the new appearance came a new nomenclature, the F-series, which persists today with the F-150, for a quarter century the best selling single model in the USA. In the United States, the trucks were designated F-1, F-2, F-3, and so on, in increasing size and capacity. F-1 was a half-ton model, F-2 was three-quarters, and F-3 a one-tonner. This went on through F-8, with a single-unit gross vehicle weight of 21,500 pounds.

Canadians, however, devised a different system, one which coded the GVW into the model number. Thus the half-ton models, known as F-1 in the U.S., became F-47 in Canada, signifying 4,700 pounds GVW. The one-ton was F-68, for 6,800 pounds, on up to F-215 for the F-8 equivalent. All Canadian trucks were V8s, the lighter series having the same 239 cubic inch unit that was the dominant engine south of the border. A similar system, beginning with M-47, was used on "badge engineered" Mercury trucks, a Canada-only brand sold by Mercury dealers.

The Pick-up we offer was the subject of a comprehensive, 'body-off the frame' rotisserie restoration to a very high standard in 2006, with new interior fitted and new emblems all round. The result was naturally stunning and has remained as such as the truck has rarely been used or enjoyed since its restoration.

It is without doubt one of the best looking and best presented examples of its breed and will certainly provide enjoyment for its next owner.