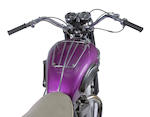 Only one owner from new, unrestored
1963 Triumph TR6 SS
Frame no. DU 4676
Engine no. TR6SSDU4676
The Triumph TR6 Trophy was introduced in 1956 and lasted until 1973 when it was replaced by the 750cc TR7. During this time it was a successful model, particularly in the US. The competition variant, the TR6(S)C, popularly known as the "desert sled", won numerous competitions throughout the late 1950s and 1960s. The bike's appearance in The Great Escape and Steve McQueen's fondness for the model are well known. Although not quite as quick as the Bonneville the Trophy is considered by many to be Triumph's best all-round 650cc model.

Like the other 650cc models in the range, the Trophy gained unit construction in 1963. This traded some smoothness for performance as a few pounds were lost. A coil ignition replaced the magneto. And '63 was the last year of the Smiths Chronometric instruments before being replaced by the magnetic type.

The example offered here, in Regal Purple, is a superbly original find. A single owner machine from new, the bike is completely unrestored. It retains all its original Lucas electrical parts, including the battery. The original rubber parts are in remarkable condition, with only the rear tire needing replacement after 47 years. And of course, a NOS Dunlop was sourced and used in keeping with bike's originality. With recommissioning after removal from storage the bike is reported to now ride exceptionally well and start on the first kick.
Saleroom notices
The title to this lot is in transit.