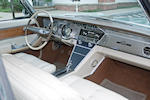 1963 Buick Riviera Sport Coupe
Chassis no. 7J1070220
Buick's 1963 Riviera was General Motors' impressive response to the popular four-passenger Ford Thunderbird. Created under the direct design leadership of GM Styling chief Bill Mitchell, the Rivera was originally conceived to be a Cadillac personal luxury coupe with a LaSalle nameplate. Mitchell later said the car he'd envisioned was inspired by classic Rolls Royce designs, with a healthy dose of Ferrari thrown in. Ned Nickles, head of GM Styling's Special Production Studio, gave form to Mitchell's vision.

When GM decided to let Divisions other than Cadillac make a pitch to build Mitchell's proposed personal coupe, it was Buick that landed the rights to build the new car. Produced as the Buick Riviera, the new car was announced as, "America's Bid for a Great New International Classic Car."

The boldly understated Riviera featured a crisply sculptured roofline, low profile, and frameless side glass. At 117 inches, its wheelbase was a full nine inches shorter than that of Buick's flagship Electra. In addition to using a specially adapted version of the bigger Buick's "X" frame design, the Riviera was also powered by the same 325-hp, 401 cubic inch Buick V-8 engine found in the larger cars. The Riviera retained Nickles' body styling, with appearance upgrades, through the 1965 model year.

While successfully taking on Thunderbird, the Riviera also brightened Buick's prestige image. Seeking to ensure exclusivity, then Buick general manager Edward D. Rollert limited first-year Rivera production to exactly 40,000 units.

The exceptional 1963 Riviera offered here was formerly in the collection of the late Len Immke. A Columbus, Ohio Buick dealer and marque enthusiast extraordinaire, Immke also helped fellow collector and Columbus resident Dave Thomas found the Wendy's restaurant chain.

Evidencing only the best of care since new, the Riviera remains in fine original condition inside and out. The factory Willow Mist finish is complimented by an uplevel "Custom" off-white Sandalwood interior with leather seat trim and genuine wood accents. (As leather was not available in subsequent first-generation Rivieras, this 1963-only option is especially desirable.) The virtually flawless bucket-seat interior is original, except for the carpet, which has recently been replaced.

The Riviera is equipped with factory air conditioning (that blows cold) and an AM/FM radio, a new option in 1963. It also has handsome simulated wire wheel covers, also an option. Underhood, a professionally detailed engine compartment showcases the powerful 401-cid Buick Wildcat V8. The undercarriage is also exceptionally clean.

The car's factory owner's manual and the special plaque engraved with the first owner's name-a touch included in every 1963 Riviera-are included.

Certainly ranking among the finest surviving examples imaginable, this spectacular fully equipped first-year Riviera is ready to show or go. Combining a rare and attractive color combination with originality that is unlikely to be surpassed, here is a Riviera that will always stand out. The 30,000-plus miles showing on the car's odometer are said to represent the actual mileage since new.