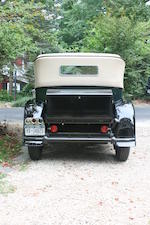 1928 Rolls-Royce Phantom 1 Newmarket Convertible
Coachwork by Brewster & Co.
Chassis no. S 393 KP
Engine no. 20938
Body No. 5521

This is fine and intrinsically highly original example of the all-weathers Convertible Newmarket Springfield built Rolls-Royce.

The car has a known history from new, which is recorded on its factory records:

Originally sold to John B. Ellsworth of Simsbury, Connecticut on May 11th, 1929.
Ten years later in November 1939, purchased by Dorothy and Fred Hudson of the Hotel Webster, West 45th St. New York City.
Post-war in March 1949 the car was sold to Henry L. Benedetto of Elmont, Long Island.
November 21, 1950 it passed to Daniel Dinsmore of Orange, New Jersey.
March 22, 1951, there was a change of ownership to Mortimer Ryon of Ithica, New York.
In 1952 the Newmarket was purchased by its next long term owner, Hayward C. Carleton of Norwell, Mass. who would keep the car until 1980.
From 1980 until 2005, it was owned by only its 7th owner from new, before passing to the current ownership.

These also confirm that the car has matched engine, chassis and body from new. In addition to the factory records, there are a number of pertinent pieces of history on file, notably a copy of a very early title document from the first owner, an instruction leaflet for the 'Sesamee' combination lock to the running board tool locker – clearly an original feature and the original Rolls-Royce key fob/dash roundel, inscribed with its chassis number.

The current owners were friends of the previous and had known the car for much of this time, they had long admired the cars originality but had seen its use become relatively limited and relished the prospect of freshening it and using it with regularity.

This process required considerable thought and effort, and included full flushing and cleaning of the fuel, grease and oiling systems, rebuilding the carburetor and progressively sorting the electrics. The brakes were gone through and adjusted/overhauled where necessary. For practicality, signal lights have been added as has an inverter so that 12 volt electric appliances such as cellphone chargers can be run off its 6 volt system, the windshield wiper has similarly been rebuilt and fitted with a variable speed switch. Completing this has been a complete re-trim in sumptuous Andrew Muirhead Scottish leather in chestnut color to match the original door cappings and dash. Another detail which aids its use is the well-designed wooden storage trunk.

All of the work has enabled the car to be used with some regularity and without concern for its reliability. More major excursions have included attending the Phantom 1 Society meeting in 2007, a round trip of more than 800 miles and exhibition at the Hamptons, Americana/Manhassett and Lewisboro Concours d'Elegances.

At some point over the last 80 years, the top was replaced in fawn canvas, and the interior was renewed in recent times as noted above, but this aside it is believed that the paint is original to the car, quite some feat for a car of this age! The nickel radiator and corresponding trim has been polished into life in the present ownership, but shows very little wear and unusually even the engraved scripts on the drum headlights are clearly visible.

An extremely authentic and attractive example of the marque and model.
Saleroom notices
This lot has been added to the auction. 1928 Rolls-Royce Phantom 1 Newmarket Convertible Chassis no. S 393 KP Engine no. 20938 $150,000-$200,000