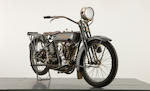 1916 Harley-Davidson Model 16 '5-35' Single
Engine no. 1254L
Boyhood friends William S Harley and Arthur Davidson began experimenting with powered transport in the early 1900s, producing their first complete production motorcycle around 1903. Little more than a motorised bicycle, the first prototype Harley-Davidson had proved fragile, prompting a major redesign and the establishment of a reputation for ruggedness that endures to this day. Like many of their contemporaries, Harley-Davidson laid out their engine along De Dion lines. A single-cylinder four-stroke displacing 24.74ci (405cc), the latter remained in production essentially unchanged until superseded by a 30.16ci (494cc) version in 1909. Of greater significance was the appearance that same year of the firm's first v-twin, though this would turn out to be a failure and was dropped at the year's end. The twin returned for 1911 in redesigned form boasting mechanically operated inlet valves (replacing the 'atmospheric' type inherited from the single) and production really took off. For the 1913 season the Harley-Davidson single was updated with the mechanically operated inlet valve developed on the twin, growing to 35ci (565cc) at the same time as well as boasting a balanced bottom-end, alloy piston and improved carburettor. Known popularly as the '5-35' (5 horsepower, 35ci capacity) the Harley single was available in belt- and chain-driven versions while ease of use was considerably enhanced by the adoption of the rear hub clutch first seen on the twin. Stronger frames were introduced on all Harley models for 1916, by which time a three-speed countershaft gearbox was offered as an alternative to the single-speed belt transmission. As the twin's popularity grew so that of the single declined, accounting for only 4% of sales in 1917, and production of Harley-Davidson's '5-35' ceased in 1918.

An older restoration purchased within the past two years, this Model 16 single has the three-speed countershaft gearbox, Dixie magneto and acetylene lighting, and carries a 'Motorcykel Historiska Klubben' brass badge on the front fork.