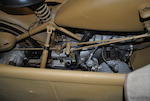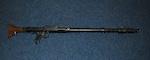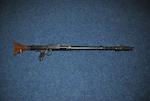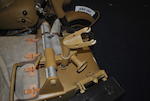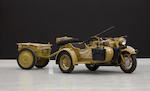 1943 BMW 750cc R75 Military Motorcycle Combination & Trailer
Frame no. 762682
Engine no. 763797
The BMW R75 sidecar outfit that the Wehrmacht used so effectively and in such great numbers in every theatre of its operations during WW2 was no mere sidecar combination but a purpose-built, cross-country vehicle. Designed by engineer/racing driver Alex von Falkenhausen and powered by a 750cc overhead-valve engine housed in a tubular steel frame, the R75 employed an ingenious transmission system featuring shaft drive to both rear and sidecar wheels and two-stage gearing. The latter provided four alternative ratios for both off-road and tarmac use, plus two reverses. There was a differential that could be locked when conditions became really tough and wide, interchangeable, 16"-diameter wheels shod with knobbly tyres. Hydraulic braking was another unusual feature, but as the R75 weighed more than 900lbs unladen and could top 60mph it needed all the stopping power it could get. A total of 16,510 K75s had been built when production ceased in 1944. A 'must have' for any serious collector of automotive militaria, this superb example of one of the most famous military vehicles of WW2 comes complete with luggage panniers, spare wheel, heavy-calibre machine gun and ammunition trailer. The restored machine was purchased for the Collection at the 'Classic Barcelona' event. It should be noted that in addition to the numbers listed above, the frame is stamped '4092182' under the seat and 'Type 275/750/R75' on the headstock plate.
Saleroom notices
Under Section 36 of the 'Violent Crime Reduction Act' - The 'Imitation Firearm' illustrated with this lot is not included in the sale.