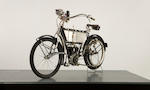 c.1905 Peugeot 3½hp V-Twin
Frame no. 8017
Engine no. 12577
Formerly producers of tools, coffee mills, umbrella spikes and corsetry, Peugeot commenced its long-standing connection with transportation in the early 1880s when it added cycle manufacture to its portfolio. The world's oldest surviving motor manufacturer, the company commenced car production in 1889 with a steam-powered tri-car but soon abandoned steam in favour of the internal combustion engine.

Also one of the pioneering firms of the French motorcycle industry, Peugeot followed the familiar progression: first adding proprietary clip-on engines to its bicycles before building complete machines of its own manufacture. The first Peugeot bicycle was manufactured in 1882; at this time the firm was known as Peugeot Frères but, as more family members joined, changed its name to Les Fils de Peugeot Frères in 1889.

Peugeot's first motorcycle – the 'Motobicyclette' – was introduced at the Paris Salon of 1901. Its 1½hp engine was supplied by the Swiss firm of Zürcher and Lüthi (also known as ZL or Zédel) and mounted on the front down-tube ahead of the pedals. Around 1903 Peugeot began manufacturing its own engines, which were mounted within the frame in the Werner position, thus improving weight distribution and handling, though assistance for the engine by means of bicycle pedals would remain a feature for some years to come. That same year, a team of five 3½hp Peugeots competed in the Paris-Madrid race. Truffault swinging-arm suspension was adopted on some Peugeot models for 1904, making them among the world's most advanced, and the following year the firm introduced its own v-twin engine. Using one of these Peugeot motors, Norton-mounted Rem Fowler won the inaugural Isle of Man TT race in 1907, and the French make featured prominently in the first ever motorcycle race to be held at Brooklands when, on Easter Monday 1908, a brace of Peugeot-powered NLGs finished 1st and 2nd.

The works Peugeots were a dominant force in motorcycle racing in the years immediately before and after WWI, thanks to a succession of innovative overhead-camshaft designs by Jean Antoinescu. A wide range of machines was manufactured between the wars, but after WW2 the firm concentrated mainly on the manufacture of two-stroke lightweights, mopeds and, following the Italian lead, scooters.

Dating from around 1905, this Edwardian-era Peugeot features direct belt drive, V-block rear brake, Luxor acetylene lighting and the optional Truffault leading-link front fork. The machine was purchased from a private seller in 2007 having previously belonged to one Raymond Harter, of Froidefontaine, France, who competed with it in the Paris-Nice run. Offered with French registration papers.
Saleroom notices
The correct Frame no. is 80170