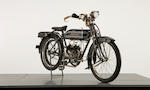 c.1912/1913 Griffon 500cc V-twin
Frame no. To be advised
Engine no. To be advised
Ets. Griffon were established at 40 Rue Louis Blanc at Courbevoie-sur-Seine in 1902 and were just one of a mighty army of small French manufacturers battling for a share of the burgeoning motorcycle market. Their early models were essentially bicycles fitted with proprietary engines, however by 1903 they displayed no less than ten models at the Paris Show. Just one year later they boasted that one of their machines achieved a remarkable 65mph. Griffon understood the publicity gained from competition successes and participated actively in early motor sport. Production was later moved to Avenue de la Grande Armée in Paris. Their V-twin models built in the years immediately preceding the Great War offered state-of-the-art motorcycling in their period. Like so many other smaller manufacturers Griffon was swallowed up by the mighty Peugeot operation in the 1920s. This machine comes with French documentation dated 1992 and file notes record first registration on 1st January 1913. The heavily finned V-twin engine provides drive via a belt pulley while light pedal assistance is available for the steeper gradient. The machine is presented in black livery with grey and black fuel tank carrying the Griffon legend. This purposeful V-twin is equipped with acetylene front and rear lamps and generator and a bugle-type bulb horn. It is further equipped with front and rear stands, rear luggage carrier and twin leather tool panniers. This is a handsome pre-Great War machine, potentially with adequate power to see it at the front of the field on the increasingly popular 'flat-tank' motorcycle events.
Saleroom notices
The frame number for this lot is 6712. The engine number for this lot is 5411.