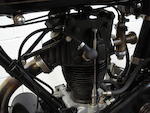 1927 AJS 349cc Model H6 'Big Port'
Registration no. Y 9452
Frame no. H-100214
Engine no. H-100214
After victory in the 1920 Junior TT, AJS's new overhead-valve 350 racer scored a memorable double the following year, Tom Sheard winning the Junior race, and Howard Davies the Senior - the first time such a feat had been achieved on a 350. The production version made its debut in November 1922, delighting clubmen everywhere with its 'racer on the road' performance. A right-first-time design destined to achieve countless successes in the hands of privateers, the overhead-valve 350 AJS - latterly known as the 'Big Port' - changed only in detail before being superseded by a much-revised M6 model for 1929. The latter's engine incorporated a number of improvements including enclosed rocker gear and dry-sump lubrication, while the frame was redesigned to accommodate a saddle tank, and Webb forks replaced the earlier Druids.

Formerly part of the late Brian Verrall's private collection, this particular H6 Big Port was converted to racing specification at the factory by its owner, AJS employee Jack Woodhouse, prior to the Wolverhampton firm's acquisition by Matchless. This unique machine's specification includes twin pannier fuel tanks, racing magneto, tank-mounted leather toolbox, racing saddle, separate oil tank with heel-operated auxiliary pump, close-ratio gears and much more besides. We are advised that the Big Port retains its original painted and plated finishes and that the saddle has been recovered (the original cover comes with it). Recent refurbishment (2009) has included a complete engine/gearbox strip-down and clean; installing new engine/gearbox bearings; cleaning and adjusting the oil pump; rebuilding the wheels with new bearings, rims and tyres; and fitting new control cables and some new pipe-work. Described by the private vendor as in generally good original condition, this example of one of the Vintage era's most sought-after racing motorcycles is offered with SORN and Swansea V5.