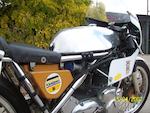 Ex-Boyer of Bromley, Mick Grant
1972 Seeley-Trident 750cc Racing Motorcycle
Frame no. CS238T
Engine no. EC 03936 T150T
Colin Seeley's lightweight, rigid chassis proved an effective means of prolonging the competitiveness of British four-stroke singles into the late 1960s, leading to requests for frames to accommodate other engines such as the twin-cylinder Norton Commando and BSA/Triumph triple. In the second part of his excellent autobiography, 'Colin Seeley ...and the rest', Colin recalls that one of his first customers for a 'multi-cylinder' chassis was Stan Shenton. 'Our reputation was growing by the day. Stan Shenton, boss of Boyer of Bromley, Triumph agents and sponsors of David Nixon and Peter Butler, requested a Seeley frame unit to suit a Triumph triple, which was designed and drawn by Bob Cakebread and built by Jack Wren.' Colin Seeley Racing Developments would go on to build a total of 14 frames for Boyer and a solitary example for Dave Croxford, who installed a BSA triple in his.

Authenticated by Colin Seeley, the frame of this machine was supplied to Boyer on 2nd March 1972. The machine's competition history is not known, other than the fact that it was loaned in 1973 to Mick Grant, who rode it at Brands Hatch and Mallory Park. The vendor advises us that the engine has just been stripped and rebuilt by Neal Beading of Nova Classics; the carburettors cleaned; and the tyres, front brake pads, chains and carburettor mounting stubs renewed. Other noteworthy features include a Quaife Mk2 five-speed gear cluster, Dunstall front disc brakes, lightweight clutch, Piper camshafts and a full race fairing. A wonderful opportunity to acquire one of the rarer examples of Colin Seeley's handiwork.