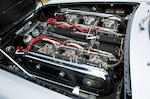 Ex-Ken Browning
1966 Lamborghini 350GT
Chassis no. 0358
Engine no. 0325
Body No. 18039

Many automakers started out making bicycles. Ferruccio Lamborghini, however, was the son of grape farmers in the Emilia–Romagna region of Italy. It is not surprising, then, that he began his industrial career with tractors. He later manufactured oil heaters and air conditioning equipment. It was not until 1963 that he formed Automobili Ferruccio Lamborghini SpA to build high-end sports cars. He had owned several Ferraris, but felt that he could build a better high-performance car. He purchased a factory at Sant'Agata Bolognese, near Modena, and hired a cadre of engineering talent.

His first production car was the 350GT, launched at the March 1964 Geneva Motor Show. Initially designed by Giotto Bizzarrini, its engine was a four-cam V-12 of 3,464 cc. Bizzarrini, however, had designed it as a racing engine, and Lamborghini was adamant about producing a road car. Thus it fell to Lamborghini's chief engineer Giampaolo Dallara to civilize it for the street. Dallara converted it to wet-sump operation, reduced the compression, revised the cam profiles and changed the racing carburetors to conventional sidedraft 40 DCOE Webers.

Dallara similarly adapted Bizzarrini's chassis design to make it more robust and rigid. Suspension was independent all around, with unequal-length wishbones and coil springs. Bodies were made by Touring in Milan, using their superleggera tubular birdcage technique to mount aluminum panels. Chassis and bodies were mated at Touring, then transported to Lamborghini's facilities at Sant'Agata Bolognese for final assembly.

Transmission was a five-speed ZF manual unit; ZF also furnished the worm-and-roller steering gear. Brakes were power-assisted Girling discs all around. Reportedly capable of 161 mph, the 350GT exhibited a then-remarkable zero-to-sixty time of under seven seconds. Total 350GT production reached 135 cars before it was superseded by the more powerful 400 GT in 1966. By 1965, however, Ferruccio Lamborghini had become enamored of mid-engine cars, the result being the 1967 Miura.

0358 is known to have been supplied originally to Portugal. As it stands today, the car is offered with a large file of invoices and history which chart its life back to 1980, when it was acquired by arch Lamborghini collector and founder of the Lamborghini Club of Canada, Ken Browning. At this point it had a broken timing chain and needed attention generally. Browning was responsible for rebuilding the motor, as well as its brakes and suspension corresponding with Ubaldo Sgarzi of the works service department to source many of the parts directly from the factory. This rebuild was accomplished over the course of 4 years. During Ken Browning's tenure the car was used as the subject of the model for a 5 page feature in the Lamborghini Buyer's Guide. On his death in the early 1990s the car subsequently passed through two further Canadian owners before being sold at auction in 2000 to an attorney in Lynchburg, VA.

The Lamborghini sold again at auction two further times and was purchased by the Oldenburg Family in August 2006. Prior to its acquisition, it had received considerable mechanical and detail work to bring it to good usable order, while retaining a good degree of cosmetic originality. This had included; rebuild of all 5 Borrani wheels, re-chromed bumpers, replacement or rebuild of the dash switches, rebuild of the original ZF transmission with new/old stock synchromesh gears, rear suspension overhaul and correct set up, with all rear suspension bushings replaced, rebuilt distributor and all six carburetors, re-balanced drive shaft, new clutch and throw-out bearing, and a general overhaul of the engine.

In present ownership the car has seen limited use, but has continued to be maintained regardless, with the minor enhancement of the distributors being converted to electronic primary ignition and the carburetors have also been rebuilt recently. The car's transmission is in excellent order and drive train reported to be as new.

On inspection today, the car can best be described as cosmetically very original or perhaps a much older restoration, such that the paint shows age with some flattening of the color and wear to edges of the hood, doors and trunk lid, but not excessively. The interior presents tidily in black leather and the 'cockpit' like dash array is complemented with the nice period detail of a Super Autavia Heuer clock, which has recently been refurbished technically and is in good working order.

A good balance of the originality/patina and fully sorted mechanicals, coupled to an interesting history and the fact that these early Lamborghinis have been increasingly coveted in recent times, makes this an appealing example of the model.
Saleroom notices
The title on this lot is in transit.