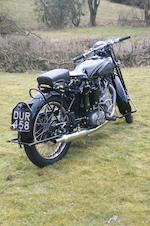 1938 Vincent-HRD 500cc Series-A Meteor
Registration no. DUR 458
Frame no. 1510
Engine no. M616
The Vincent-HRD marque originated in 1928 when Philip C Vincent acquired the name, jigs, tools and patterns of the recently liquidated HRD Company. ('HRD' stood for Howard Raymond Davies, the Isle of Man TT winner who had founded the firm in 1924). Vincent moved production from Wolverhampton to Stevenage and set about putting his motorcycle design ideas into practice, commencing with an innovative sprung frame that would remain a feature of Vincent motorcycles until production ceased in 1955.

Like Davies before him, Vincent relied on proprietary engines until increasing dissatisfaction with suppliers led to the creation of Vincent's own in 1934. An overhead-valve, 500cc single, this all-new power unit was designed jointly by PCV and his Chief Engineer Phil Irving who, so legend has it, later came up with the idea of a 1,000cc v-twin after seeing two drawings of the single superimposed on one another. By producing a v-twin in this fashion, many of the existing single-cylinder components could be utilised, thus reducing costs, an important factor for the fledgling concern.

Messrs Vincent and Irving brought fresh thinking to the design of what would become known as the Series-A motor, opting for a relatively short stroke of 90mm coupled to an 84mm bore, a high-set camshaft and two guides for each valve with the rocker arm engaging between them; the sum of all these features resulting in a compact engine with considerable scope for tuning. The names 'Meteor' and 'Comet' were chosen for the touring and sports versions respectively of the stylish new Vincent-HRD, which had not even been started, let alone ridden, when it was first exhibited at the 1934 Motor Cycle Show at Olympia. Fortunately, during the Show a tester achieved a speed of 90mph on a Comet, a highly respectable figure for a 500cc sports roadster and one that fully justified Philip Vincent's prior performance claims. In the 1935 Isle of Man Senior TT, three of the new Vincent-HRDs finished in 7th, 9th and 12th places, demonstrating that they possessed reliability as well as speed. Sales increased steadily, but the Vincent was an expensive and exclusive product, and ownership remained the privilege of a wealthy few.

Production of all Series-A Vincent-HRDs ceased on the outbreak of WW2, and today the single-cylinder Meteor and Comet – the machines that effectively kick-started the Vincent legend – are highly prized by discerning collectors.

Its current owner has known of this machine for over 50 years and has been its custodian for the past 40. The machine was kept stored in a workshop for most of that time, only emerging relatively recently to be treated to a total restoration. Commenced in July 2002 and completed in January 2004, the rebuild was carried out by Lol Williams, whose detailed description of the process and list of components replaced (a total of five closely typed A4 pages) accompanies the machine. Also included with it are sundry restoration invoices, old-style logbook and Swansea V5 document. Presented in excellent condition, 'DUR 458' represents a rare opportunity to acquire one of the legendary Series-A Vincent-HRD singles.