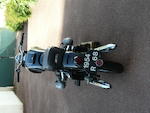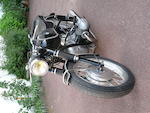 1954 BMW 594cc R68
Frame no. 653838
When BMW commenced post-war production in December 1948 it was with the R24 single, and it would be another 12 months before a twin-cylinder model became available again. This was the R51/2 based, as its designation suggests, on the pre-war R51, which was a development of the R5 of 1936. Improvements incorporated into the R51/2 included two-way damped front forks, gearbox main-shaft damper and a strengthened frame.

Having concentrated on refining these essentially pre-war designs during the early post-WW2 years, BMW was ready with a new model for 1951. Designated R51/3, the newcomer boasted a totally redesigned, single-cam engine that went into the existing cycle parts. Also new for '51 was BMW's first 600cc model of the post-war era, the R67. Of relatively modest power output, the R67 was intended for sidecar pulling duty and was a far cry from the R66 super-sports roadster of pre-war days.

Although it was predominant in the 500cc category at home at this time, what BMW lacked was a big-bore sports model able to compete with the 650cc twins offered by British rivals in its chief export market, the USA. Styled like the factory's ISDT machines, the long awaited new sportster debuted at the Frankfurt Motor Cycle Show in October 1951. This was the 594cc R68, readily distinguishable by its restyled valve covers that hinted at the engine's enhanced specification. The latter included bigger valves, needle-roller rocker bearings, high-performance camshaft and larger carburettors, all of which contributed to a maximum power output of 35bhp, which was good enough for a top speed in excess of 100mph.

The show models' high-level exhausts were not carried over to the production R68, which featured low-level pipes equipped with 'fishtails', while for 1953 there were numerous revisions including full-width hubs, alloy wheels rims and cigar-shaped silencers. Replaced by the Earles-fork, swinging-arm framed R50/R69 in January 1955, these final telescopic-fork, plunger-framed models represent the end of an era for BMW motorcycles, of which the high-performance R68 is the ultimate expression.

This magnificent BMW R68 has been owned by the current vendor since 1958. We are advised that the machine was restored between 1990 and 2005, completion being delayed by the mechanic's ill health. Work undertaken included overhauling the crankshaft, converting the cylinder heads to accept lead-free petrol, and fitting a new exhaust system. Other noteworthy features include the highly desirable Meier fuel tank and pillion saddle, and 1960s tyres! Only offered for sale because the elderly owner can no longer ride it, the machine is presented in generally good working order and comes with sundry restoration invoices and French registration papers.
Saleroom notices
The engine number is 653238. The frame number is 653258. Offered without restoration invoices.