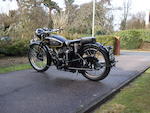 1947 Velocette 349cc KSS MkII
Registration no. JKT 410
Frame no. 8245
Engine no. 10712
Continuously developed, the innovative Velocette two-strokes had proved reliable, economical and very popular, but by the early 1920s it had become apparent that a more upmarket model was required. Other manufacturers were fielding new overhead-valve and overhead-camshaft machines, and Veloce Ltd followed suit, the Percy Goodman-designed, overhead-cam Model K first appearing in 1924. Of 348cc, the new engine employed a single overhead camshaft driven by vertical shaft, and was unusual in having a very narrow crankcase, an arrangement determined by the existing transmission and frame design, which made for a stiff crankshaft assembly. Entered in the 1925 Isle of Man TT, the new model K did not fare well, all three entries retiring because of lubrication problems. Its engine redesigned to incorporate dry-sump oiling, the 'cammy' Velo returned the following year to score a memorable victory, Alec Bennett romping home in the Junior race 10 minutes ahead of the second-place rider! Second place in 1927 followed by another win for Bennett in 1928 ensured a healthy demand for Velocette's overhead-cam roadsters and prompted the launch of the KTT, one of the most successful over-the-counter racers of all time.

By the end of the 1920s Veloce's range of K-Series roadsters boasted a host of variations on the theme that included Normal, Sports, Super Sports, Touring, Economy and twin-port models. Introduced in 1925, the KSS was the Super Sports version while the KTS tourer employed the same overhead camshaft engine in virtually identical cycle parts, differences being confined mainly to mudguard style and wheel sizes. Introduced for the 1936 season, the MkII version of the KSS/KTS represented a major redesign, featuring many improvements including a new aluminium-alloy cylinder head with enclosed valve-gear, plus the cradle frame and heavyweight Webb forks of the new MSS.

This KSS was purchased in Norfolk by the current vendor circa 1978 and then restored, the engine being treated to a full professional rebuild in 1985. Not used since the restoration's completion, although the engine has been turned over regularly and was last started one year ago, the machine remains in generally excellent condition but will require some re-commissioning and the customary safety checks before returning to the road. Offered with old-style continuation logbook and Swansea V5.