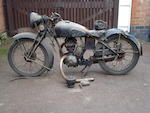 1936 Rudge 248cc Sports
Registration no. JU 8149
Frame no. 56505
Engine no. T1107
Motorcycle manufacturers from 1910 to 1939, Rudge were renowned for their championing of the four-valves-per-cylinder engine layout, employing it for the first time on a 250 in 1931, its previous offerings in the class having used two-valve JAP engines. The contemporary 350's fully-radial valve arrangement was used for the new quarter-litre Rudge, rather than the semi-radial arrangement of the sports and racing 500s or the parallel layout preferred for the touring Special. The Rudge 250 was unusual for its day in having coil ignition, though a magneto became optional later and was standard issue on the works racers and the TT Replica. A two-valve Tourist version joined the existing four-valve Sports 250 for 1935 and became the Rapid the following year when it adopted the marque's characteristic coupled brakes. With the deletion of the four-valver at the end of 1936, the Rapid became the sole 250 in the range (a new Sports version with high-level exhaust was added for 1938) and the only Rudge to retain the left-side gear pedal to the end.

This four-valve Sports is one of three Rudge 250s bought from Burrows Motor of Montagu Street, Kettering in March 1973 (the others being Lots 255 and 256), the accompanying bill of sale describing them as 'sold in dismantled condition for restoration purposes.' Sold strictly as viewed, the machine is offered with buff continuation logbook (issued 1949) and old-style Swansea V5. A spare cylinder head, barrel and piston are included in the sale.
Saleroom notices
There is no bill of sale offered with this lot.