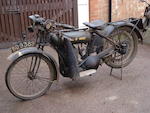 1924 BSA 250cc Model B 'Round Tank'
Registration no. BD 9389
Frame no. B 2058
Engine no. B 2210
A top-selling model for BSA in the 1920s, the versatile Model B, or 'Round Tank', was used by just about every tradesman whose job required cheap personal transport. Popular with learners - the fact that the gearbox had only two speeds and that both brakes operated on the rear wheel were attributes guaranteed to re-assure novices - the reliable 250 sidevalve provided many with their first motorcycling experience. Advanced features, for a lightweight, included all-chain drive and pumped lubrication, though the traditional sight feed and auxiliary hand pump were retained. A three-speed version - identifiable by its black tank - was added for 1926 and then the following year a wedge-shaped tank replaced the much-loved original.

Presented in wonderfully original 'barn find' condition, this Model B was purchased in December 1971 from a Mr Butler of Islip near Thrapston, Northants, whose sister it had belonged to (see bill of sale on file). It is understood that the machine was last used in 1926, though Mr Butler's sister continued to tax it until 1930 (1929 and '30 tax discs come with it). Offered for restoration, the machine features its original saddle, control levers, leg shields, Lucas/P&H acetylene lighting set and Dunlop Cord tyres, and comes with assorted tools, an oiler and an unused Lodge plug. An old-style Swansea V5 registration document comes with it.