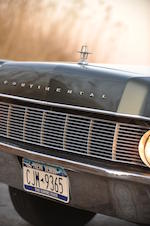 1967 Lincoln Continental Convertible
Chassis no. 7Y86G806764
The new, clean Lincoln Continental design for 1961 started out as a Thunderbird concept. Styling veep George Walker wanted it, so chief stylist Elwood Engel rounded up a team that eventually included John Najjar, Bob Thomas, Joe Oros, John Orff and Colin Neale. Reflecting on criticism of the earlier cars, Engel told Najjar "I want a clean car - no garbage." A clean car is what he got, created around a Thunderbird cowl. But it was Robert McNamara, Ford general manager and soon to become company president, who suggested it become a four-door Lincoln Continental. This caused quite a stir, since an evolutionary Lincoln, based on the 1958-60 design, was already in process. But Engel's design prevailed, and went into production in November 1960.

The Industrial Design Institute awarded it a coveted Bronze Medal, rare for an automobile. A full 15 inches shorter than its predecessor (and 10 and 15 inches shorter, respectively, than '61 Cadillacs and Imperials), the new Continental was designed for ease of passenger entry: the lack of a wrap-around windshield and use of aft-hinged "suicide" rear doors aided in this. And truly novel for the time was a four-door convertible body style, the first since the faltering Frazer Manhattan of 1951. Design changes over the first three years were minimal. A 1964 freshening restyled the tail end, but also changed the curved side glass to flat panes, which saved money. In order to provide more rear legroom, the wheelbase was stretched three inches to 126.

Front disk brakes were made standard in 1965, and 1966 brought a new skin, with new contours and a sculpted accent line down the side. The curved glass returned. The design continued in production through 1969, but the convertibles were discontinued after 1967. These are sometimes called "Kennedy Lincolns," since several were adopted for the White House fleet and one of them became heartbreakingly famous in Dallas during November 1963. Some, however, prefer to remember the image of President Johnson leading cars of the intrepid press corps, in a car very much like this one, at astronomical speeds on the LBJ Ranch.

The owners acquired the Lincoln because it reflected one their key trends of the collection - originality, the car being a remarkably intact un-restored example of the model. It was also chosen because it carried all the available options of the day, save for power head rests. The car was purchased from a collector in Brookville, NY, who it is understood was the second owner, the Continental having originally been owned by an elderly gentleman in Kansas City, to this day the mileage recorded is only 51,000. It has lived at the family house in Bellport, NY and has proven to be an enjoyable and commodious car when entertaining friends.

Finished in its unusual period dark metallic green livery with matched interior leather, the condition throughout the car is exceptionally clean, the interior showing little wear, the paint is good and of utmost importance the electric top mechanism and power windows were all working when tested during our catalog photography/inspection. To aid current use in the summer, the period air-conditioning changed to run with modern non-polluting gas.

A fine and original example of one of the most distinctive designs of its day.