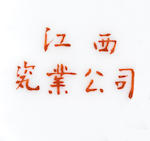 A pair of famille rose flaring bowls
Second quarter of the 20th century, iron-red Jiangxi Ciye Gongsi marks
Each painted on one side with a pair of white and brown birds perched on turquoise rockwork dividing colourful flowering shrubs and peony, the back with an inscription, box.
8.8cm (3½in) diam. (3).
Footnotes