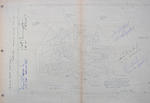 COOPER'S COMMAND MODULE BLUEPRINT.
North American Aviation, 36 by 10½ inches with 3 punch holes at the left edge. Three interior views of the Command Module (CM) are shown with over 40 individually identified components. Included are oxygen hose assemblies, stowage lockers, and the crew couches.

INSCRIBED AND SIGNED: "From my Apollo Notebook, Gordon Cooper Apollo X B. U. CDR, CM 106." ADDITIONALLY SIGNED AND INSCRIBED: "Alan Bean CM 108 Apollo XII; Walt Cunningham CM 101 Apollo 7; Charles M. Duke, Jr. CM 113 Apollo 16; Fred Haise CM 109 Apollo 13; Edgar Mitchell CM 110 Apollo 14; Tom Stafford CM 106 Apollo X."