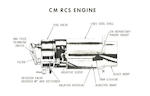 APOLLO COMMAND MODULE ROCKET ENGINE.
Apollo Command Module rocket engine, made by Rocketdyne, Model SE-8, steel and ablative material, 14 inches long and 3½ inches wide at nozzle base. Fuel and oxidizer valve assemblies are at the top with the associated electrical wiring connections. An ablative nozzle is at the bottom. Internal components consist of a block of ablative material and sleeve, refractory throat insert, and a stainless steel shell. A Rocketdyne ID label reads in part: "Propulsion System Component, Part Name: Rocket Engine, Part No. 106009, Model No. SE-8-4... Serial No. 4064944." Etched date on the body reads "4Q64" (fourth quarter, 1964).

A set of 12 of these bi-propellant engines provided the Command Module with rotation control, rate damping, and attitude control after separation from the Service Module and during re-entry. The engine has had several test firings.
SIGNED AND INSCRIBED: "Fred Haise, Apollo 13" on the outer casing above the ID tag.