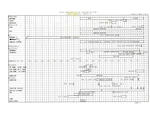 GEMINI COUNTDOWN MANUAL—CREW SIGNED.
Gemini Rendezvous Mission Countdown, Revision 7, GTA-6. Gemini Rendezvous Mission Countdown Working Group, September 23, 1965. 21 pp. 11 by 8½ inches. Loose leaf, punched.

The document presents the combined Atlas and Titan vehicle countdowns with an illustrated timeline including events such as propellant loading, equipment and sensor verifications, and crew ingress procedures. Timeframes usually start at T- 540 minutes to T 0.
Signed and inscribed by WALLY SCHIRRA (with "Gemini 6") and TOM STAFFORD (with "Gemini VI, Plt") on the cover.