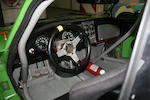 1965 Matra DJET V S
Chassis no. 10170
La société française Matra (Mécanique Aviation TRAction), spécialisée dans les activités aéronautiques, se diversifie dans la construction automobile en reprenant en 1965 René Bonnet et en poursuivant la fabrication de sa Djet. En partenariat avec Charles Deutsch, René Bonnet s'exerce dès 1939 aux travaux automobiles avec une spéciale sur base Citroën, bien que sa progression soit sérieusement ralentie jusqu'à 1945. Le duo Deutsch et Bonnet forme en 1949 les Automobiles DB, s'adressant à Panhard pour les moteurs et éléments de suspensions. Ce choix débouche sur une série de prototypes qui vont rencontrer de beaux succès dans leur catégorie, aux 24 Heures du Mans, à partir du milieu des années 1950. En 1961, le partenariat éclate, Deutsch poursuivant sa route avec des voitures à mécanique Panhard tandis que Bonnet se tourne vers Renault. Il va bientôt proposer la Djet, de forme profilée et qui est une des premières voitures de tourisme à moteur central-arrière jamais fabriquée, bien que la plupart aient terminé leur carrière sur la piste. Etape importante du développement automobile en France, la Djet est propulsée par un moteur Renault 1 100 cm3 délivrant 70 ch en version standard et 95 ch avec une préparation Gordini, alors que la carrosserie en fibre de verre dissimule une structure tubulaire, quatre roues indépendantes et des freins à disques sur les quatre roues.
La voiture que nous proposons a couru sur les principaux circuits européens, incluant le Nürburgring, Spa-Francorchamps, Dijon-Prenois, Pau, Angoulême, Magny-Cours, Le Castellet, Zandvoort, Assen, etc. Depuis le 14 septembre 2008, cette voiture détient officiellement le record du tour à Zandvoort pour la catégorie FIA GTS08, pilotée alors par Dirk Janssen. Complètement reconstruite en 2006 et en excellent état, prête à courir, la voiture est équipée d'un moteur Renault Gordini 1 108 cm3 préparé par Schäefer. Fonctionnant bien, elle comporte aussi une bonne boîte de vitesses, des roues d'origine, un arceau de sécurité de qualité, et répond aux exigences de l'Annexe K du règlement FIA. Elle est accompagnée de son Passeport Technique Historique (PTH) FIA pour la catégorie GTP1 (1965), mais peut être facilement convertie en catégorie GTS14 (1966) avec un moteur Gordini 1300. Immatriculée en France, la voiture est livrée avec une grande quantité de pièces de rechange, incluant des jantes, une pompe à essence, une boîte de R8 Gordini (à refaire), et beaucoup d'autres choses.


French aerospace company Matra (Mechanique Aviation TRAction) diversified into automobile manufacture in 1965 when it took over René Bonnet and continued producing the latter's Djet sports car. In partnership with Charles Deutsch, René Bonnet had first tried his hand at motor manufacturing in 1939 with a Citroën-based special, though further serious progress was curtailed until 1945. The duo formed Automobiles DB in 1949, turning to Panhard for engines and suspension components that would form the basis of a highly successful series of Le Mans class-winning sports prototypes from the mid-1950s onwards. In 1961 the partnership split, Deutsch continuing with Panhard-based cars while Bonnet turned to Renault. One of Bonnet's first offerings was the stylish Djet, one of the first ever mid-engined road cars, though most examples ended up on the racetrack. A French motoring milestone, the Djet was powered by an 1,100cc Renault engine producing 70bhp in standard trim or 95bhp with Gordini tune, while beneath the typically slippery glassfibre coachwork there was a tubular spaceframe chassis, all round independent suspension and four-wheel disc brakes.
The car we offer has been raced extensively on all Europe's major circuits including Nürburgring, Spa-Francorchamps, Dijon-Prenois, Pau, Angoulême, Magny-Cours, Le Castellet, Zandvoort, Assen, etc. Since 14th September 2008 this car has held the official lap record at Zandvoort for FIA class GTS08, car driven by Dirk Janssen. A Completely rebuilt in 2006 and presented in very good, race-ready condition, the car is fitted with a Gordini 1,108cc engine prepared by Schäefer. Running well, it also features a good gearbox, original wheels and a quality roll-over bar, and is to correct FIA Appendix K regulations. The car comes with FIA HTP-document for the GTP1 class (1965) but could easily be converted to class GTS14 (1966) with a 1,300cc Gordini engine. French registered, the car is offered with a quantity of spares to include wheels, fuel pump, R8 Gordini gearbox (to be refurbished) and much more.