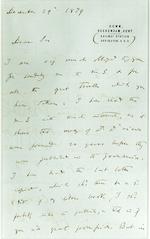 DARWIN, CHARLES. 1809-1882.
Autograph Letter Signed ("Charles Darwin"), 3 pp, 8vo, conjoined leaves, Down, Beckenham, Kent, December 29, 1879, to Charles Harrison Tindal, slivers of tape in upper margin, with front of original autograph transmittal envelope.

Darwin discusses his grandfather Erasmus Darwin [1731-1802] and his Zoonomia of 1794. His correspondent Tindal was the brother-in-law of Elizabeth Carill-Worsley, a granddaughter of Dr. Darwin. In part: "I am very much obliged to you for sending me the M.S. & for all the great trouble which you have taken. I have read the M.S. with much interest, as it shows that many of Dr. D's views were formed 20 years before they were published in the Zoonomia. I have had the last letter copied, which shd. there be a 2nd. edit. of my little book, I shd. probably like to publish." Darwin then asks for more information about the background of the manuscript. His "little book" may be the introduction to Ernst Krause's life of Erasmus Darwin, published around this time.
See illustration on preceding page.