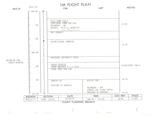 APOLLO 17 FINAL FLIGHT PLAN.
Apollo 17 ... Final Flight Plan. Houston, TX: NASA/MSC, October 23, 1972. Upwards of 500 pp. 10½ by 8 inches. Card stock covers, punched and with staples removed.

Signed by Lunar Module Pilot Harrison Schmitt (with Apollo 17) and by Gene Cernan as Apollo XVII CDR on the front cover.
The longest flight plan written for the Apollo Program, covering general flight plan notes, charts and tables, a detailed timeline of all flight events (over 400 pp), consumables, summary timeline, and alternate missions.