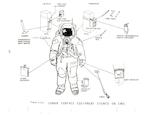 APOLLO 16 LUNAR SURFACE PROCEDURES.
Apollo 16 Final Lunar Surface Procedures. Houston, TX: NASA/MSC, March 16, 1972. 457 pp. 4 folding tables. 10½ by 8 inches. Card stock covers, punched.

Inscribed on the cover: "Fantastic! This first foot on the lunar surface is super! First words on the moon by Charles M. Duke, Jr., LMP."
The minute-by-minute plans of John Young and Charles Duke for their three lunar drives using the lunar rover. Includes: descriptions of the lunar rover, ALSEP equipment, and lunar surface tools; geological sampling objectives at the Cayley formation and the Descartes mountain area; EVA tasks in the exact form of the crew's EVA cuff checklists (but unlike in the cuff checklists, 'gag' illustrations are not included); 10 rover traverse maps like those carried on the lunar rover; a space suit equipment malfunction checklist.