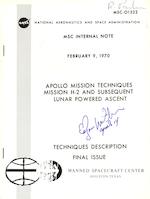 THE STEPS OF A LUNAR VOYAGE.
Apollo Mission Techniques. Mission H-2 and Subsequent. NASA/MSC: 1970. 4 volumes, comprising:
1. Translunar Midcourse Corrections and Lunar Orbit Insertion. April 6, 1970. Over 55 pp.
2. Lunar Descent. February 15, 1970. Over 85 pp.
3. Lunar Powered Ascent. February 9, 1970. Over 45 pp.
4. Manual Ascent. February 23, 1970. Over 40 pp.
8 by 10½ inches. Card stock covers, punched and stapled. Ownership inscription of Robert Parker, Apollo support crew member and later Space Shuttle Astronaut, on each cover.

Four signed internal-use NASA documents. Each front cover is signed by Edgar Mitchell ("Edgar Mitchell / Apollo 14 LMP"). Documents the methods and crew procedures to travel to, land on, and return from the lunar surface. Included are samples of actual flight navigational update entry pads, diagrams of maneuvers, flight program sequence steps, and flow charts with "Go - No Go" step branches. These flight methodologies and philosophies were used for all Apollo lunar landings including Apollo 11.