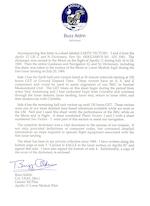 ALIGNMENT TABLES USED ON APOLLO 11 WHILE ON THE LUNAR SURFACE.
3 sheets from the flown Apollo 11 LM G & N Dictionary, Navigation sub-section, July 1969, 8 by 5 ½ inches.

A set of three reference data tables to assist the alignment of Eagle's navigational equipment just after the first lunar landing and again before lift-off from the lunar surface. Each inscribed by Aldrin, "Carried in Eagle to the lunar surface on Apollo XI," and signed by him on verso.
Each sheet is accompanied by a Typed Letter Signed by Aldrin, explaining that these sheets were "carried to the Moon on the flight of Apollo 11 during July 16 to 24, 1969. Then the entire Guidance and Navigation (G and N) Dictionary, including this sheet, was taken to the surface of the Moon aboard Lunar Module Eagle during the first lunar landing on July 20, 1969."
The first letter, accompanying the sheet titled "Planet Vectors" continues, "Side 1 has the Venus half-unit vectors listed at 10 hour intervals. These vectors have an X, Y, and Z component and could be used to assist alignment of our IMU or Inertial Measurement Unit. Four of these vectors could be seen at Tranquility Base. Neil Armstrong and I used this sheet for reference while on the lunar surface. Side 2 has the half-unit vectors for the planets Mars, Jupiter, and Saturn. These planets were not as bright nor as easily seen as Venus, thus the number of useful intervals during the flight were fewer."
The second accompanies "Earth Vectors," and reads in part: "Side 3 has the Earth half-unit vectors listed at 30 minute intervals starting at 100 hours GET or Ground Elapsed Time ... The GET times on this sheet begin during the period from when Neil Armstrong and I had undocked Eagle from Columbia and continued through the lunar descent, lunar landing, lunar stay, return to lunar orbit, and then rendezvous with Columbia. Side 4 has the remaining half-unit vectors up until 130 hours GET."
"Sun Vectors" is explained by a third Aldrin letter, stating "Side 5 has the Sun half-unit vectors listed at 3 hour intervals starting at 100 hours GET or Ground Elapsed Time ... These vectors were one of our detailed time based navigational references while we were in the LM. Neil and I used this sheet to verify the performance of the IMU while on the Moon and in flight ... The complete dictionary was a vital document to the success of our mission. It not only provided definitions of computer codes, but contained detailed information on steps required to operate flight equipment associated with the first lunar landing."