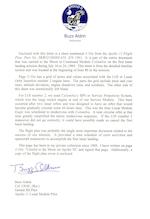 FLOWN APOLLO 11 FLIGHT PLAN SHEET–A KEY ENGINE BURN.
Apollo 11 flight plan, pp 3-51a, a single sheet printed recto and verso, NASA/MSC, July 1, 1969, 10 ½ by 8 inches, inscribed in ink by Buzz Aldrin.

The flown flight plan sheet listing the parameters for the critical Lunar Orbit Insertion number 2 (LOI 2) CSM Service Propulsion System engine burn. This adjusted lunar orbit of the CSM/LM to a point where LM Eagle could safely land on the lunar surface and return.
Accompanied by a Typed Letter Signed by Buzz Aldrin, which begins in a similar way to that in the preceding lot, and continues: "Page 3-50a has a grid of terms and values associated with the LOI or Lunar Orbit Insertion number 2 engine burn … For LOI number 2, we used Columbia's SPS or Service Propulsion System, which was the large rocket engine at end of our Service Module. This burn occurred after two lunar orbits and was designed to have an orbit that would become gradually circular some 44 hours later. This was the time Lunar Module Eagle was scheduled to rendezvous with Columbia. A near circular orbit at that time greatly simplified the entire rendezvous sequence. If the LOI number 2 maneuver did not go correctly, it could have possibly made us cancel the first lunar landing."
The letter also states that this sheet has been in Aldrin's collection since 1969. On page 3-50a below the grid, Buzz Aldrin has written the inscription "Carried to the Moon on Apollo XI, Buzz Aldrin." A copy of the flight plan cover is included.