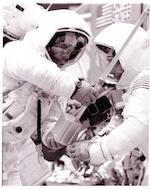 ARMSTRONG'S APOLLO SPACE SUIT COVER.
Neil Armstrong's A7L Apollo space suit cover. Beta cloth with a large center flap opening with interior zipper, multiple metal snap-buttons, and velcro attachments. The assembly approximately 24 by 21 inches (semi-circular). An interior label reading in part "Item I/TMG Connector Cover, Part No. A7L-201109-01, Size ARMSTRONG, Serial No. 063, Date 12.68, Contract No. NAS 9-6100 (NASA), ILC Industries, Inc."

Perhaps the only opportunity to acquire a fitted piece of equipment from Neil Armstrong's Apollo 11 training space suit. A policy established in the early years of the space program gave the Smithsonian Institution first refusal on space flown items in general, and space suit equipment in particular.
The present item is one of only three known covers made for each of Armstrong's A7L space suits - the training suit, the flight suit, and the flight back-up suit. The A7L model was the suit worn on the moon by the Apollo astronauts. The suits consisted of an inner Pressure Garment Assembly (PGA) that was pressurized with oxygen for breathing, and an outer Integrated Thermal Micrometeoroid Garment (I/TMG) that protected the astronaut from temperature extremes and hypervelocity micrometeoroid punctures while on the lunar surface.
Connectors for the primary and back-up oxygen supply, electrical supply, and water for space suit cooling were on the front torso area of the A7L suit. The present connector cover protected these connections during training exercises and while the suit was not in use, between training periods or during flight stowage. It was initially intended to prevent lunar dust from gathering around and jamming the connectors. The front flap allows access to the space suit purge value. Two curved side openings allow oxygen hoses to slide under the cover.
Included are three NASA black and white photographs of Armstrong and Aldrin during training, each wearing their connector covers. Any space suit material related to Armstrong is exceedingly rare.