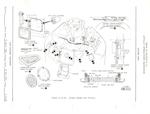 APOLLO OPERATIONS HANDBOOK–THE APOLLO BIBLE.
Apollo Operations Handbook, Block II Spacecraft, Volume 1 [only], Spacecraft Description. NASA, April 15, 1969-April 15, 1971 (updated). Approximately 1,100 pp. 10½ by 8 inches. Loose and punched as issued.

Signed by Buzz Aldrin, Alan Bean, Gene Cernan, Richard Gordon, Gordon Cooper, Charles M. Duke, Jr., Fred Haise, Edgar Mitchell, Rusty Schweickart, and Tom Stafford on the cover with their Apollo flight and CSM numbers. Publication details page additionally signed by James Lovell and Jim McDivitt in the same fashion.
The most extensive handbook published on the Apollo CSM, designed to provide astronauts and support teams with a complete understanding of vehicle systems and operations. In three sections: the first providing a spacecraft configuration overview; the second covering all spacecraft systems; the third covering functions of all spacecraft control panels.