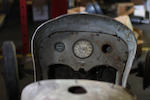 c.1935 Midget Race Car Project
Sprint car racing had started as everyman racing, ballooning in popularity in the 1920s. An enterprising racer could build a sprint car from old Ford Model T or A parts and be competitive for very little money. As the 20s progressed, the sport became more sophisticated with the advent of more exotic racing equipment. A huge array of speed parts hit the market to transform the average Ford motor into one capable of racing at Indy. No longer could the regular Joe compete as easily. To fill this void for simple race cars the midget concept was born: essentially a scaled down sprint car. Due to their small size, they could be powered by a variety of basic engines: every thing from Harley Davidson knuckleheads to outboard marine engines powered these little racers.

To most, the most iconic and versatile power plant was the Ford 60hp V-8. Introduced in Ford passenger cars in the 30s as a more fuel efficient alternative to the 85hp V-8, these little V-8s were just the right size for a midget. Out of the box they could power a midget quite well and, with a few modifications, could really fly.

This midget racer project includes the venerable V-8 60hp and enough parts to begin a more complete restoration. The frame is a scratch built 1930s unit. The running gear is a modified Model T rear end a modified Model A front end. The wheels are disk type midget wheels. The transmission appears to be a small in and out type. There is a Franklin steering box and Model T wheel. The bodywork is very well made of all steel with period instruments mounted in the dash.

These parts are ready to go together as a nice and genuine 1930s midget. A fun restoration that should not take up too much space or money, with the end result being a good, usable vintage racer.