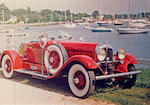 Believed to be formerly owned by (Sir) Malcolm Campbell
1928 Auburn 115S Boattail Speedster
Registration no. (GB) YW9668
Chassis no. 2849569
Engine no. 22969
In the late Twenties the dynamic leadership of Errett Lobban Cord was having its effect on the Auburn Automobile Company. Fast, sporting, powerful and reliable, Auburns offered nearly unprecedented value and its moderately-priced eight cylinder lines set a standard for performance, appearance and value that other makes found it difficult if not impossible to match.

Such was Auburn's image that its reputation spread in Europe. Dealers sprang up in the U.K. and across the continent where its combination of performance and handling at a modest price made Auburn a serious competitor to luxury and sports marques. Auburn fostered its reputation with frequent speed record runs. The fun started with Wade Morton in California who had an Auburn prepared by Eddie Miller, a former Duesenberg mechanic. Morton took the prepared 1927 8-88 to the board track in Culver City in March, ran a thousand miles and set a new American record at a speed of 68.37mph.

Stutz responded with a thousand miles at 68.4mph on the Indianapolis bricks in April and the two went head-to-head at Atlantic City in May in a 75 mile showdown. Rom Rooney's Stutz roadster came out ahead, but only by a head, averaging 86.247mph while Morton's Auburn 8-88 roadster finished a tick behind, averaging 86.24mph. [By the timing standards of the day it was in fact just a tick: 52 minutes 10 3/5 seconds for the Stutz and 52 minutes 10 4/5 seconds for the Auburn.] The Stutz's advantage was far smaller than the difference in price, $3,150 for a 4-seat Stutz AA Vertical Eight Speedster vs. $1,695 for the Auburn 8-88 Roadster.

Later that summer an Auburn team with top rank drivers Wade Morton, Ralph Hepburn, Fred Winnai and Ab Jenkins went to the Atlantic City boards where they set AAA national records from 75 miles to 15,000 miles.

The 1928 Auburns capitalized on Auburn's 1927 records and the marque's burgeoning reputation. They were given new model identifications, but more importantly they were some of the most advanced automobiles on the market. The top of the line model 115 was powered by a highly developed Lycoming straight eight, the 4MD, with 299 cubic inches and 115 brake horsepower at 3,300 rpm. The Auburn chassis got four-wheel hydraulic brakes, one of the first applications of hydraulic brakes on a series production automobile and unprecedented at Auburn's price point.

Highlighting Auburn's record-setting success was the brand new Auburn 115 Speedster, the streamlined, lightweight sports car in the Auburn line. Developed from a Duesenberg design by John Tjaarda, the Auburn Speedster's tapered, sloping tail made no concessions to practicality with strictly two-seat accommodations and luggage space for no more than a weekend. In design, however, it was stunning, featuring swept-back hood side louvers, matching door line angles and a steeply raked windshield that combined with the tucked under tapered tail to leave no doubt about the speed of the 115hp Auburn. With giant 13" diameter headlights, standard Dayton wire wheels and two-eared centerlock nuts it was everything a Jazz Age sport could want. For just $2,195 it was a bargain. A few decades later marketers would have called it a "halo" car. For Auburn several generations of Speedsters over the next nine years were to be just that.

The power, light weight, good handling, excellent brakes and streamlining of the Auburn 115 Speedster made it ideal for record-setting. The first to capitalize on its potential was, again, Wade Morton. On February 20, 1928 he set a AAA stock car record on the sands at Daytona Beach, Florida driving a stock bodied 1928 Auburn 115 Speedster at 104.347 miles per hour.

That was on the same day, and on the same beach, that Capt. Malcolm Campbell set the land speed record at 206.956mph in the 900hp "broad-arrow" Napier Lion-powered Bluebird.

Capt. (later Sir) Malcolm Campbell no doubt encountered Morton and the Auburns (there were two 115 Speedsters at Daytona that week) among the small speed record community in Florida. This righthand drive example is reputed to have belonged to Campbell, not surprising in light of its performance while he was in Daytona, his affinity for American automobiles (he was identified with Hudson sales and advertising in England later in the Thirties after Auburn's demise) and its combination of attributes including an exceptionally responsive chassis, strong engine, great brakes and the lithe, sporting bodywork.

It is identified as sold by Maldon C. Harley & Co., 48 Kensington Gardens Square, W2 in London and its straightforward conversion to righthand drive includes Harley's identification plaque applied over the normal locating holes for the Auburn's Bijur one-shot chassis lubrication tank. It is equipped with comprehensive equipment for late Twenties driving including the giant Monogram headlights, a Lucas King of the Road driving light, 4-spoke steering wheel and a gorgeous Zeiss, Jena pedestal-mounted spotlight. A bar over the attractively fluted tube-style front bumper is prominently adorned with badges from the Royal Automobile Club and CFT (Touring Club France). A separate stylized griffon mascot marked "NFS" (National Flying Services) and badge from the Redhill Flying Club add more character appropriate to an automobile driven by a veteran of World War I's Royal Flying Corps who is known to have paralleled his pursuit of the land and water speed records with continued flying adventures.

Finished in dark red with a brick red upper body, burgundy leather upholstery and a beige cloth top, it has body color wire wheels, wide whitewall tires and dual sidemounts set into the front fenders. The instrument panel is adorned in its center with an "MCH" monogram, likely that of the dealer.

It is in exceptionally original condition and appears never to have been completely apart. The original McFarlan Body tag is still on the floor boards under the seat, much of the original woven-insulation wiring is in place and the chassis still exhibits much of its original finishes. Appropriate to the car of a land speed record holder it has impressively high ratio rear axle gearing which renders first gear in its three-speed transmission with performance more like its contemporaries' second. The brakes are – especially for the period – huge.

Its previous owner was a Harold "Buck" Evans who signed its Massachusetts title over to Ted Leonard's Auto Show dealership after Ted purchased it at the Topsfield Auction May 19, 1990 (and drove it home.) Other than that its history is unknown, leaving a number of elusive but intriguing threads for the next owner to follow. Conversion back to lefthand drive would be very straightforward, but that is hardly the point.

There is a potentially rewarding thread pointing back at (Sir) Malcolm Campbell, reinforced by a note written by Ted Leonard just days after purchasing the car. It refers to a Mr. White who came from England armed with "a ream of information about the history of this car, Sir Malcolm Campbell of speed record fame figured in its history…" Mr. White, although armed with information, was less well provided with finance and didn't have sufficient resources to top Ted Leonard's $69,500 bid. He "is going home to England to see if he can find some more money or some item that might tempt me out of 'his' car, but I think I am becoming in love with this great, beautiful, powerfull [sic] treasure."

Mr. White never, apparently, reappeared, nor have efforts to trace him during cataloging been successful. The next owner, with more time for research while enjoying driving the spirited Auburn Speedster, may have better luck.

It has recently been refreshed mechanically with important details like the ignition switch rebuilt and a new old stock distributor cap and rotor obtained and installed. The fuel system, including the elaborate and complex Schebler duplex updraft carburetor, has been cleaned and rebuilt after years in storage, and it has been driven by a Bonhams specialist who describes it as delightful, particularly praising its tall rear-end gearing and the sporty feel of its chassis.

It is easy to understand the excitement of the 1928 Auburn 115 Speedster's introduction. Its tapered-tail, raked windshield two-seat coachwork was previously the province of only the most exclusive custom coachwork on elaborate and expensive chassis. Its performance must have been a revelation: fast, responsive and – particularly for the time – equipped with truly large and effective hydraulic brakes. The design, of which only 226 were built, is unsurpassed in the Twenties and Thirties and more rare and distinctive than later Auburn speedsters. Combining great performance, attractive sporting design, an intriguing ownership mystery and highly original condition, this is a particularly attractive and desirable automobile.