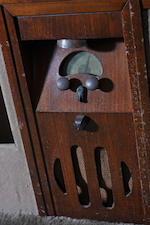 The ex-Gladys Swarthout, rare left hand drive 'AMS Series'
1933 Rolls-Royce Phantom II Sedanca de Ville
Coachwork by Gurney Nutting
Chassis no. 220 AMS
Engine no. U65J
The Phantom II was the last Rolls-Royce designed by Henry Royce, culminating a four year long process to perfect the successor to the Silver Ghost. Lessons learned in the "New Phantom", now commonly known as the Phantom I, were applied in the Phantom II to maintain and enhance Rolls-Royce's reputation for building the finest automobiles in the world.

Production of the Phantom I continued in Springfield, Massachusetts until 1931. The effect of the Great Depression made continuing production there unreasonable but it represented an important North American presence and still functioned as an important depot for preparing chassis and providing parts support. The Springfield Silver Ghosts and Phantoms were replaced by a series of lefthand drive Phantom IIs built in Derby specifically for the American market.

The six-cylinder pushrod overhead valve engine's dimensions were unchanged but it acquired a new cross-flow cylinder head that put out some 120 horsepower, growing with subsequent developments to over 150hp in some cases. Engine, clutch and the four-speed transmission were now a single unit with an open driveshaft, hypoid rear axle and semi-elliptical rear leaf springs replacing the earlier cantilever leaf springs. Later changes included synchromesh on the top two gears.

Chassis changes and a taller, more imposing radiator made the Phantom II more adaptable to a wide variety of coachwork. The long 12' 6" wheelbase accented the imposing presence that began with the classic Rolls-Royce radiator, providing abundant room for lavish formal coachwork in a wide variety of styles.

Chassis 220 AMS had a varied history before getting its present Gurney Nutting Sedanca deVille coachwork as the elegant, formal transportation for Metropolitan Opera star Gladys Swarthout. Originally powered by engine U65J which is still with the chassis today, it was one of the last recorded lefthand drive AMS series chassis dispatched from Derby in 1933 and was bodied in the United States with Brewster Keswick town car coachwork delivered to Dr. J. Bentley Squier of New York City and Scarsdale. When next recorded with new owner Frank M. Chapman, Jr. in October of 1941 it was with this Gurney Nutting Sedanca deVille coachwork, the change happening at an unknown time.

Mr. Chapman was the husband of Metropolitan Opera star Gladys Swarthout. An accomplished singer in his own right he abandoned his own career upon marrying the diva and devoted the rest of his life to managing her career. It was no small challenge as she diversified her appearances from the opera stage to film as the Thirties ended and then further into radio and television. Highly regarded for her voice, beauty and work ethic, Gladys Swarthout was plucked from her opera career in 1935 by Paramount.

Gladys was to be Paramount's counterpart to Jeanette MacDonald and Lily Pons, opera stars bringing their talent, stage sense and voices to the movie musicals that made the Thirties a golden age of cinema. Born in Deepwater, Missouri in 1900, the daughter of a railroad Pullman conductor, Gladys and her siblings all were musically gifted and the family worked diligently to give them the best education possible.

A measure of her talent and determination can be seen in her accomplishment of memorizing 23 different parts in the few months between the time she was selected to appear with the Civic Opera of Chicago and her debut. Only a few years later, in 1929, she made her first appearance with the Metropolitan Opera. Her dedication to hard work and effort continued throughout her career. She memorized the lyrics to her film role songs in five different languages, making her a favorite in many countries.

She and Frank Chapman had primary residences in Hollywood and New York City during the Thirties and Forties but spent much of their time at a rural farm in Connecticut. Her appearances on radio, where for a time she had her own show, and elsewhere probably created the need for a formal car to deliver her in the style which her fans – and they were many – and the show business community expected.

This Springfield Rolls-Royce Phantom II with its Gurney Nutting Sedanca deVille coachwork was ideal. The coachwork was first fitted to Phantom II 17 TA, a short chassis Continental delivered December 12, 1934 directly to Gurney Nutting on an order from H.R. Owen where it was fitted with Sedanca deVille coachwork in early 1935. The bonnet was specially ordered with the distinctive 11° raked louvers. The first owner, Sir McPherson Robertson, took delivery on April 8, 1935. How the coachwork came to be in the United States, or why it was substituted for the attractive and similarly functional Brewster Keswick body, is not known but it is clear from Rolls-Royce records that the present body and chassis have been together since they were delivered to Frank M. Chapman, Jr. in 1941.

In May 1947 J. Wynne Paris of Newton, Massachusetts purchased 220 AMS from the McNear-Nash Company in Brookline, only to re-sell it in September to Alden G. Handy from whom Ted Leonard is believed to have bought it in January of 1978.

It is an unusually handsome and attractively outfitted automobile even by Rolls-Royce Phantom II standards, with sweeping, crowned fenders, dual sidemounted spares and wide whitewall tires on painted wire wheels. Its subtle black livery enhances the formal nature of the design, the perfect accoutrement for a famed artist's arrival at the theatre, studio or function. Its lefthand drive makes it particularly attractive to American collectors and commend it to a very small subset of the luxurious Rolls-Royce motor cars of the era. It is outfitted with beautiful, large Marchal headlights supplied through Trilux of New York and has synchromesh on the top two gears in its four-speed box. A separate luggage trunk adapts it for formal work in town, for touring and for frequent excursions between the New York residence and the Connecticut retreat. The tool kit resides under the driver's seat which is protected from the elements by a cloth tendelet which folds into a compartment in the roof.

The occupant of the left rear seat, presumably Mr. Chapman, had a smoker's kit while the passenger on the right was provided with a more elaborate combination smoker's kit and vanity. Two additional passengers could be accommodated in occasional seats. There is a rollup divider and a radio in the rear for entertainment as well as a footrest for comfort. Trafficators are located on the body's B-pillar to help negotiate New York traffic safely, although few others on the streets even of "The City" would be bold enough to challenge this imposing Rolls-Royce and its privileged passengers for right of way.

It appears to be largely original with just an old repaint. The front seat's grey leather is cracked and stiff but not split and may respond well to sympathetic attention. Similarly, the beige broadcloth upholstering the rear compartment is aged and tender but sound and complete. Other interior appointments are sensitively aged and sound.

A great example of Gurney Nutting's mastery of the art of formal coachwork and Rolls-Royce's successful perpetuation of its position as the finest automobile in the world, Gladys Swarthout's Phantom II Sedanca deVille also has the provenance of ownership by a genuine star of opera, recordings, film and radio, a lady who was accomplished and sufficiently recognized to be a Mystery Guest on What's My Line. It is a thoroughly deserved reward for the girl from Deepwater, Missouri who made good as George Bizet's beautiful gypsy, Carmen, and a monument to her accomplishments.