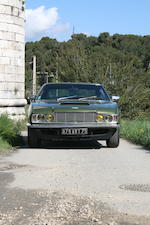 1971 Aston Martin DBS V8 Saloon
Chassis no. DBSV8/10161/LC
Although always intended to house the new Tadek Marek-designed V8 engine, the Aston Martin DBS first appeared with the 4.0-litre 'six' of the concurrently produced DB6. Styled in-house by Bill Towns, the beautiful DBS caused quite a stir, Autocar magazine observing that, 'Without the aid of an Italian stylist the Newport Pagnell team came up with something as modern, handsome and Italianate as anything from the Turin coachbuilders at that time.' Although less well known as such than the earlier 'DB' series, the DBS is yet another 'James Bond' Aston Martin, having featured in the 1969 motion picture, On Her Majesty's Secret Service, starring George Lazenby as the eponymous secret agent.
A full four-seater, the DBS employed a platform-type chassis with independent suspension all round: wishbone and coil-spring at the front, De Dion with Watts linkage at the rear. Bigger and more luxuriously appointed than the DB6, the heavier DBS disappointed some by virtue of its slightly reduced performance, but there were no complaints when the V8 arrived in 1969. With an estimated 345bhp available from its 5,340cc, fuel-injected, four-cam motor, the DBS V8 could reach 100mph in under 14 seconds, running on to a top speed of 160mph - a staggering performance in those days and one which fully justified the claim that it was the fastest production car in the world. Even in automatic transmission form the V8 could reach 100mph in around 15 seconds and better 145mph flat-out.
This DBS V8 was sold new in France by Thepenier on 8th April 1971 and registered in Paris by one John Bindefeld on 29th October 1975. Registered by the current owner on 27th April 2000, the Aston is presented in very nice original condition and good running order. The car is finished in green with very nicely patinated original leather interior and comes with French Carte Grise.

Cette DBS V8 a été vendue par les établissements Thépenier le 8 avril 1971, et immatriculée à Paris par un John Bindefeld le 29 octobre 1975. Immatriculée par son actuel propriétaire le 27 avril 2000, cette Aston Martin se présente en très bel état d'origine et fonctionne bien. Elle est peinte en vert et sa sellerie cuir d'origine offre une belle patine. Carte grise française.