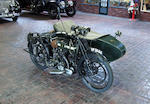 1914 BSA 557cc Model K Motorcycle Combination with BSA No.2 Sidecar
Registration no. HP 2464
Frame no. 10902
Engine no. 7397 (see text)
This wonderful BSA combination has enjoyed only six owners in total, having been delivered new to one James Brierly, of Cheltenham in October 1914. He sold it in 1923 to a plumber, Walter Harris of Pershore for £50. Mr Harris used it infrequently for local journeys, finally laying it up in his workshop in Church Street in 1930. In 1972 contractors moved in to demolish the workshop for redevelopment and the combination was discovered preserved in remarkably sound and original condition. Its owner was still alive, and when enthusiast 'Rolly' Newton heard about the BSA, he was able to purchase it from Walter Harris, discovering that it had covered only about 600 miles from new (see The Classic MotorCycle, September 1983).

In Rolly Newton's ownership the BSA 'combo' won many awards, including being a four times winner of the Twycross Trophy on the VMCC's Banbury Run as the veteran machine judged to be in best original condition; the Harry Mack Trophy (VMCC) for outstanding achievement on a sidecar outfit (1985/6); the Len Willis Trophy on the 1993 Banbury Run performance award for best veteran; VMCC International Rally 1984 and 1988 best pre-1925 machine; 1989 winner of the VMCC Levis Cup Trial; and Opening Day National Motorcycle Museum Best Veteran Trophy awarded by Geoff Duke (1984).

The machine continued in active use with the fourth owner before being purchased by the immediately preceding (fifth) owner at Brooks' auction at The National Motor Museum, Beaulieu on 28th July 1999 (Lot 149). At that time it was described as being in substantially the same condition as when acquired by Rolly Newton, apart from a change of engine. While in the fifth owner's possession the BSA formed part of his private museum collection and was routinely maintained and exercised regularly on a private estate until mid-2006.

Sold to the current vendor at Bonhams' Beaulieu Sale in September 2007 (Lot 615) the machine has formed part of his private collection since then. All fluids were changed and the machine oiled and greased before being started, and there is still ample time in hand to complete its re-commissioning in time for next year's Pioneer Run, which the vendor believes will be a relatively straightforward process.

The accompanying history file contains various photographs, Vintage-period tax discs, three old-style logbooks, running/maintenance notes, (copy) handbook and parts list, assorted correspondence and much more besides. The 'time warp' machine is offered with Pioneer Certificate and Swansea V5 registration document, while the original engine, number '10902', comes with it together with a quantity of other spares including gearbox parts, sidecar seat and the original tonneau cover.