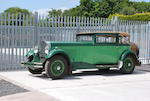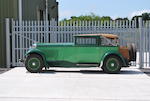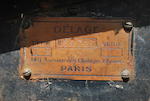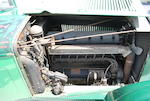 1932 Delage D8 'Faux Cabriolet' Coupé

Coachwork by Chapron, Paris
Registration no. GX 7212
Chassis no. 34743
Engine no. 1392
In its day, the Delage D8 was the only French car which could be mentioned in the same breath as the 32CV Hispano-Suiza in terms of elegance and engineering excellence, while the Delage factory at Courbevoie was the most modern in the French industry, equipped with the finest tools that money could buy.
Founded in 1905 by Louis Delage, the company had commenced production with a single-cylinder De Dion-engined runabout and within a few years was offering multi-cylinder designs. The publicity value of racing was recognised right from the start, a single-cylinder Delage winning the Coupe Des Voiturettes as early as 1908 and Louis himself taking the 1911 Coupe de l'Auto in a 3.0-litre four-cylinder. Victories at the Grand Prix du Mans and the Indianapolis 500-Mile Race were achieved prior to WWI, the company going on to become a major force in Grand Prix racing in the 1920s and setting a new World Land Speed Record mark in 1924 with a 10.7-litre V12.
Four-cylinder DI and six-cylinder DM models formed the mainstay of touring car production in the 1920s, and then at the 1929 Paris Salon Delage launched the Maurice Gaultier-designed D8. A magnificent 4.0-litre overhead-valve straight eight featuring an X-braced chassis and servo-assisted braking, the D8 was destined to attract the creative attentions of Europe's finest coachbuilders. 'This thoroughbred of engineering was given outstanding coachwork by Chapron, Figoni, Letourneur et Marchand, Saoutchik, Labourdette, Vanden Plas, Freestone & Webb, Barker, Pourtout, Fernandez & Darrin; they all wanted to show what they could do with it,' observed William Stobbs in his book Les Grandes Routières - France's Classic Grand Tourers. The impressive list of D8 owners included King Gustav V of Sweden, King Alexander of Yugoslavia and Emperor Haile Selassie of Ethiopia as well as leading businessmen, politicians and film stars of the day.
This magnificent Delage D8 with stunning coachwork by Henri Chapron was first owned by Sir Ian Stewart, whose address was Salford Street, London W1 and next by one Charles Hewett of Bristol, who acquired it in 1935. Hobbs (Quarries) Ltd of Backwell, Bristol is the 3rd owner listed in the accompanying original logbook, which records Barry Burnett as 4th owner from 1978. Barry commenced a partial restoration of the Delage, which remains incomplete: the roof, faux cabriolet and boot requiring finishing off. Offered with Swansea V5 and a file of correspondence and ephemera, the car is described as in generally good condition, although a non-runner, and will require re-commissioning before returning to the road. No reserve.