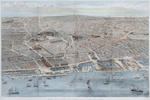 Eyes (John)
Plan of Liverpool, from a survey of 1765,
engraving, with part hand shading, also the elevation of the South Front of the Exchange and cartouche and descriptive text, 61 x 80cm (24 x 31 1/2in).
Together with a 'Bird's eye view of Liverpool, from the Mersey - with all the new public buildings', wood engraving, hand coloured, 1886, (2).
Saleroom notices
Please note the John Eyes Plan of Liverpool is a mid 19th century lithographic copy and not an engraving circa 1765.