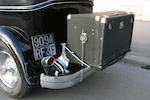 Ex-Duchesse de Montpensier
1932 Packard 904 Coupe Chauffeur
Coachwork by Franay
Peu de châssis d'origine américaine trouvaient l'occasion de se voir carrosser en France, face à la concurrence directe des marques de prestige locales qu'étaient alors Hispano-Suiza, Delage, Bugatti ou Avion-Voisin. Seuls quelques grands noms de l'industrie américaine parvinrent à trouver le chemin de la vieille europe, dont Duesenberg, Cadillac, ou Packard.

La période qui court de la fin de la guerre en 1918 à la fin des années trente voit la carrosserie française prendre une place prépondérante dans le monde. Disposer d'un châssis de luxe était un détail qui plaçait dans la bourgeoisie comme dans l'aristocratie, mais le faire équiper d'une carrosserie unique réalisée par Kellner, Labourdette, Franay ou Saoutchik, apportait une aura supplémentaire et incontournable à l'équipage ainsi constitué.

En ce qui concerne l'aspect mécanique, il s'agit d'une Packard Eight 36cv du type 904. Le châssis est doté de l'empattement long (Long Weel base)de 3,68 mètres, qui confère à la voiture un gabarit impressionnant, soit 5,70 mètres de longueur. Le numéro de série du châssis est 193347.

Sous le long capot, ronronne un bloc moteur en fonte de huit cylindres en ligne à soupapes latérales, de 6 300 cm3 (88,9 mm x 127 mm). Il est alimenté par un carburateur de marque Zénith. Les 110 ch qu'il développe à 3000 tr/mn emmènent la belle américaine à 128 km/h malgré son poids de presque deux tonnes. La boîte de vitesses possède trois rapports et les freins sont à tambours sur les quatre roues, à commande par câbles. La commande de direction agit sur un boîtier à vis et secteur. La suspension est assurée par quatre ressorts semi-elliptiques.

La voiture fut probablement commandée en 1931 au carrossier Marius Franay par son altesse royale Maria-Isabel-Joséphina-Magdalena-Théodora Gonzalez de Olanetta e Ibaretta, Vicomtesse de Los Antrines, Marquise de Valterrazo, et Duchesse de Montpensier par alliance (cousine par alliance du Roi d'Espagne Alphonse XIII). Le châssis avait été commandé quelques mois plus tôt aux Etablissements Barbezat, l'importateur français de la marque, installé sur les quais à Boulogne-sur-Seine.

Le carrossier Jean-Baptiste Franay s'était installé à son compte en 1903. C'est son fils Marius qui lui succéda à partir de 1922. Il carrossait des châssis de prestige et disposait dans les années trente d'une large et excellente réputation auprès des élites européennes, que ses nombreux prix lors des concours d'élégance ne peuvent que souligner. Son activité cessa en 1955 avec comme ultime réalisation, la limousine présidentielle Citroën 15-Six pour René Cotty. Il s'adonna ensuite à sa seconde passion, le cinématographe, puisqu'il possédait les laboratoires LTC Franay à Boulogne-Billancourt.

La carrosserie de notre superbe automobile est de type coupé-chauffeur. C'est à dire que la partie destinée au propriétaire est fermée tandis que la partie dévolue au chauffeur n'est couverte que par un tendelet en cuir (encore d'origine) escamotable dans le pavillon de l'habitacle. La structure de la carrosserie est réalisée telle une charpente en bois, recouverte de tôles d'acier formées à la main. A la proue, la calandre spécifique à la marque est protégée par un épais pare-choc bi-lame.
Contrairement à l'habitude de l'époque, toutes les portières s'ouvrent de façon moderne et sécuritaire, d'arrière en avant, grâce à des charniéres integrées à ouvertures totales, les 4 vitres à manivelle disposent d'un mecanisme à crémaillére. Les jantes sont équipées de flasques pleines comportant le blason de la marque Packard. Le pare-brise plat et incliné est constitué de deux partie dont la supérieur orientable. Le toit tôlé de l'habitacle est recouvert d'un habillage extérieur en cuir noir.
A l'arrière du coupé-chauffeur, un porte-malle escamotable semble inviter aux voyages aux longs cours. Il dispose de sa malle de voyage à la mesure.

La carrosserie de ce coupé chauffeur est aujourd'hui intégralement noire, tandis qu'elle était à l'origine de couleur brune. Les blasons apposés sur les portières sont ceux de la famille d'Orléans. Cette superbe automobile connu une vie paisible dans la même famille jusqu'en 1989, date à laquelle elle quitta le château royal de Randan.

L'habillage de la partie arrière est constitué de marqueteries en bois précieux et de tapisseries en drap de velours de teinte beige clair. L'habillage de la partie chauffeur est constitué des mêmes marqueteries en bois précieux et de cuir noir. Derrière le volant trois branches, la planche de bord dispose de pas moins de cinq cadrans aidant à la conduite. L'habitacle est séparé du poste de conduite par une séparation chauffeur dotée d'une vitre escamotable par un mécanisme à manivelle à mouvement brisé.

Ce coupé-chauffeur Packard signé par Franay a fort peu roulé durant ces dernières soixante-seize années puisqu'il affiche un peu plus de 11 000 milles au compteur. La carrosserie comme la mécanique sont en état d'origine et la voiture est en état de fonctionnement. Le carburateur et la ligne d'échappement ont été changés récemment. Elle est un des plus parfaits exemples de la qualité des réalisations du carrossier de Levallois-Perret et dispose d'un châssis de réputation mondiale. C'est donc un ensemble d'un parfait classicisme et d'une sobre distinction, doté d'une rare et appréciable origine aristocratique.


American chassis were seldom chosen as bases for their designs by French coachbuilders, it being very difficult for foreign imports to compete against prestigious local makes such as Hispano-Suiza, Delage, Bugatti or Avions Voisin. Only a few of the great American marques found general acceptance in Europe, chiefly Duesenberg, Cadillac and Packard.
Between 1918 and the end of the 1930s, French coachbuilding ranked alongside the world's best. Owning an expensive chassis enhanced the perceived social status of the bourgeois and aristocrat alike, while having it equipped with bespoke coachwork by the likes of Kellner, Labourdette, Franay or Saoutchik was regarded as a mark of even greater prestige.
This particular car is constructed on the Packard Type 904 Eight long-wheelbase (3.68 metres or 12') chassis and measures an impressive 5.70 metres (18' 8") overall. Under the long bonnet, the cast-iron straight-eight sidevalve engine displaces 6,300cc and produces 110bhp, an output sufficient to propel his two-ton automobile to a top speed of 80mph (128 km/h). Power is transmitted to the road via a three-speed gear box, while other chassis details include semi-elliptic springing and cable-operated drum brakes all round.

This particular car was probably commissioned in 1931 from the coachbuilder Marius Franay by Maria-Isabel-Josephina-Magdalena-Theodora Gonzales de Olanetta e Ibaretta, Viscountess of Los Antrines, Marquise of Valterrazzo, Duchess of Montpensier and cousin of the King of Spain, Alfonso XIII. The chassis had been ordered some months previously from Établissements Barbezat, the French Packard importer, located in Boulogne-sur-Seine.
The coachbuilder Jean-Baptiste Franay had founded the company in 1903, control passing to his son in 1922. Franay worked on prestigious chassis and gained an excellent reputation, winning several Concours d'Elegance awards in the 1930s. Coachbuilding ceased in 1955 after the construction of René Coty's Citroën 15/6 presidential saloon, after which Marius turned to photography, owning the Laboratoires LTC Franay in Boulogne-Billancourt.

The coachwork of this superb car is of the 'coupé-chauffeur' type, in which the passenger compartment is enclosed and the chauffeur's is open, protected only by the original retractable leather curtain. It is constructed in the traditional manner, consisting of a wooden frame covered with hand-formed steel panels. On the front of the car, the distinctive Packard radiator grille is protected by a substantial two-bladed bumper, while the American maker's emblem is also found on the wheel discs. Unlike what was customary at the time, all doors are hinged at the front in the safe and modern manner. The four window winders are operated via a rack-and-pinion mechanism and the flat sloping windshield is built in two parts, the upper part swivelling open. The roof is covered externally in black leather, while at the rear there is a made-to-measure trunk on the luggage rack.
Originally brown, the coachwork has been refinished in black and bears the Orleans family's crest on the doors. The passenger compartment is embellished with precious inlaid woodwork, as is the chauffeur's, but with additional leather. On the dashboard, there are five dials ahead of the three-spoked driving wheel. There is a window winder for the division between the passenger and the chauffeur's compartment.

This superb car enjoyed a quiet existence within the same family ownership until 1989, when it left their chateau in Randan. It would appear to have travelled little during the past 77 years, the odometer showing around 11,000 miles only. The coachwork and the engine are in original running condition, the carburettor and exhaust having been replaced recently.
Built on one of the world's foremost luxury chassis, this is a perfect example of Franay's high quality formal coachwork, distinguished by former aristocratic ownership.
Saleroom notices
This Packard is a Deluxe Eight with a 147.5 inch wheel-base. This is the longest wheel-base and most desirable of all eight cylinder 1932 Packard models.