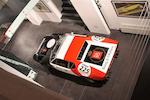 1973 DE TOMASO PANTERA GP3
1973 De Tomaso Pantera Group 3 Coupé
Chassis no. 2006
Cette De Tomaso Pantera (châssis n° 2006) initialement commandée à l'usine en 1973 fut préparée en fonction des spécifications du Groupe 3 pour le compte de l'importateur Bang & Olufsen en Belgique représenté par son directeur général M. Freddy De Dryver. La voiture fut livrée et entretenue par l'importateur officiel De Tomaso pour la Hollande, la Belgique et le Luxembourg, Claude Dubois, de Bruxelles, et destinée au fils De Dryver, Bernard. Relativement débutant à l'époque, Bernard De Dryver finit par piloter dans la série Aurora en Formule 1 et par disputer les 24 Heures du Mans à dix reprises, son meilleur résultat étant une deuxième place au classement général en 1987 au volant d'une Porsche Primagaz.

L'équipement spécial de la Pantera Groupe 3 comprenait des roues Campagnolo (15 x 8 pouces à l'avant et 15 x 10 pouces à l'arrière comme sur la version GTS), des amortisseurs Koni réglables, des plaquettes et du fluide de frein type compétition et les équipements spéciaux de sécurité obligatoires à l'époque : coupe-circuit général accessible de l'extérieur, arceau anti-retournement, extincteur et sièges baquets. De même, le moteur fut préparé en fonction du règlement applicable au Groupe 3 avec un arbre à cames plus « méchant » (en conservant toutefois les poussoirs hydrauliques d'origine), un carburateur Holley et un carter d'huile de 10 litres cloisonné pour éviter le désamorçage de la pompe. Dans cet état de préparation modéré, le moteur Ford V8 de 5,8 litres développait environ 330 ch (DIN) alors que les voitures de série (dont la Pantera GTS doté du même moteur) subissaient progressivement des réductions de puissance en raison de l'application des normes antipollution américaines. C'est ainsi que le moteur de série donnait environ 300 ch (SAE) en 1971, mais seulement un peu plus de 200 ch dans les années 1980.

Un rapport final plus court améliorant les accélérations était généralement spécifié et c'est le cas sur cette voiture. Avec le rapport final le plus long, la vitesse maximale s'établissait à 280 km/h, mais avec le rapport court, la vitesse ne dépassait pas 250 km/h environ. Des rapports intermédiaires rapprochés étaient disponibles avec la boîte de vitesses à cinq rapports ZF DS25/2 (en Groupe 3) et, comme sur toutes les Pantera, le différentiel était du type à glissement limité. En 1973, la Pantera était probablement la « Groupe 3 » la plus rapide, sa seule faiblesse se situant dans ses freins insuffisamment endurants en compétition et donc sujets au fading sur les circuits où ils étaient souvent et durement sollicités. (Il ne fait aucun doute que ce fut l'arrivée de la Pantera qui poussa Porsche à accélérer le développement de la 911 en produisant les versions RS et RSR de cette dernière). Les freins type compétition ne furent pas homologués pour les Pantera Groupe 3 avant 1975 (en devenant disponibles sur commande pour les voitures de production), mais ils ne furent montés sur le châssis « 2006 » qu'à son retour en Europe en 2005.
En 1973, la voiture fut engagée dans plusieurs épreuves dont le Tour de France automobile pilotée par Bernard De Dryver et Pierre Rubens. Un léger accident sur le circuit de Charade avec Rubens au volant fut la cause d'une défaillance ultérieure d'un moyeu arrière qui entraîna l'abandon. Des moyeux renforcés (appelés « mozzo verde » par l'usine en raison de la teinte de la peinture d'identification) furent développés par la suite à Modène et homologués en Groupe 3.

En 1974, la Pantera fut confiée à Hervé Regout, ami de Bernard De Dryver et pilote de talent lui-même. Hervé disputa le Championnat de Belgique qui rassemblait des voitures des Groupes 2, 3 et 4. Sur les six ou sept manches du championnat, la Pantera ne manqua que deux arrivées, une fois pour une soupape cassée et l'autre pour une sortie de piste. Pour 1974, la Pantera Bang & Olufsen fut engagée en partenariat avec le « Team Michel Vaillant » (des Editions Jean Graton) et termina le Championnat de Belgique à la deuxième place au général. La même année, l'écurie B&O/Michel Vaillant prit également part à une prestigieuse épreuve pour GT en lever de rideau du GP de France de F1 à Dijon où Hervé prit une brillante troisième place derrière deux Porsche d'usine pilotées par Gérard Larrousse et Haldi (deux autres Pantera finirent quatrième et cinquième). À la fin de la saison 1974, la Pantera B & O fut vendue à Paul Kawan puis à Gérard Marcy avant d'être la propriété du négociant Michel Kruch qui l'exporta aux Etats-Unis.
En 2005, son premier importateur découvrit la voiture en Californie en s'apercevant à sa grande surprise qu'il s'agissait de la fameuse Bang & Olufsen Groupe 3 de compétition. Elle apparaissait encore telle qu'elle avait couru - avec son coupe-circuit réglementaire toujours à sa place – et Dubois informa Bernard De Dryver de son acquisition.

La voiture passa ensuite aux moins de son actuel propriétaire qui fit procéder à une restauration totale, cosmétique et mécanique, ce qui impliqua le remplacement du moteur. Aux spécifications du Groupe 3, ce moteur développe actuellement plus de 420 ch grâce à l'utilisation de composants modernes tout en conservant les poussoirs hydrauliques homologués en Groupe 3. De plus, la voiture a été équipée de freins plus grands (comme ceux des De Tomaso Longchamp et Deauville) homologués dès 1975.
Une plaquette d'aluminium portant le n° 2006 rivetée sur la carrosserie derrière le radiateur a probablement été fixée lors du séjour de la voiture aux Etats-Unis. La plaque d'aluminium apposée par l'importateur belge et portant les numéros d'identification de la voiture, le numéro PVA (Procès Verbal d'Agréation) et d'homologation auprès du ministère des Communications, la liste des lubrifiants recommandés et le nom de l'importateur, Claude Dubois, avait été rivetée à la même place avant même la livraison de la voiture.
Une modification moderne sous la forme de deux extracteurs munis de grilles ouvertes dans le capot a apporté une amélioration notable du refroidissement en permettant à l'air chaud de s'échapper après le radiateur. Une modification semblable avait été introduite sur les Pantera en 1975, mais avec une moindre efficacité que sur cette voiture Groupe 3. Les légers dommages visibles sur l'angle inférieur droit de la coque quand le capot moteur est ouvert, qui résultent de la sortie de piste de Pierre Rubens à Charade lors du Tour de France 1973, ont été délibérément préservés.

Les garnitures intérieures sont conformes au style original de 1973, la planche de bord et les portes ayant été rhabillées du vinyl noir correct, tandis que les tapis noirs neufs sont aussi conformes à l'origine. La garniture noire du coffre à bagages avant est parfaite et une batterie de qualité (Optima) occupe son emplacement original. La voiture actuellement équipée de sièges compétition Recaro « comme neufs » et d'un harnais « quatre points » compétition Willans possède aussi ses sièges baquets d'origine. L'arceau-cage d'usine type Groupe 3 est en place et en parfait état, tandis que l'instrumentation est d'origine à l'exception d'un thermomètre plus précis datant de 1973. Situé à l'origine sous le capot moteur et au-dessus de la boîte ZF, le bac à bagages a été déposé pour faciliter l'accès à la mécanique, mais il sera livré avec la voiture. Le radiateur d'origine est aussi disponible, mais il a été remplacé sur la voiture par un radiateur Fluidyne de meilleure qualité et d'une capacité supérieure.
La clé de contact installée en production sur la colonne de direction a été remplacée par un contacteur sur la console centrale à portée de main du pilote, emplacement plus pratique pour une voiture de compétition et typique des voitures du Groupe 3. Un coupe-circuit principal positionné au bas de la planche de bord devant le passager fait aussi partie des spécifications d'usine des voitures Groupe 3. Le Trip mécanique Belmog Twin MkII, spécifiquement conçu pour les rallyes classiques a été installé avant le Tour Auto 2006.

Repeinte dans sa livrée Bang & Olufsen originale et offerte avec un historique copieux et complet préparé par l'historien des Pantera et pilote du Mans, Claude Dubois,, cette Pantera Groupe 3 historique actuellement en parfait état de fonctionnement et accompagnée de ses documents FIA, est prête à reprendre le cours de sa carrière en compétition aux mains de son nouveau et heureux propriétaire.



The De Tomaso Pantera we offer here, chassis number '2006', was originally ordered from the factory in 1973 prepared to FIA Group 3 specification on behalf of the Bang & Olufsen importer in Belgium, represented by its Managing Director, Mr Freddy de Dryver. It was delivered and maintained by the official De Tomaso importer for Holland, Belgium and Luxembourg, Claude Dubois, in Brussels and was intended for the use of De Dryver's son, Bernard. A relative novice at the time, Bernard De Dryver went on to race in Formula 1's Aurora series and competed at Le Mans on ten occasions, the highlight of his career being a 2nd place finish at the French endurance classic in 1987 driving a Primagaz Porsche.

The Pantera's special Group 3 equipment included Campagnolo wheels (15"x8" front, 15"x10" rear as on the GTS version); adjustable Koni shock absorbers; competition brake pads and fluid; and the mandatory safety equipment of the period: external electrical master switch, roll cage, fire extinguisher and bucket seats. The engine likewise was prepared within the Group 3 regulations, incorporating a 'hotter' camshaft (retaining the stock hydraulic tappets), Holley carburettor and 10-litre anti-surge sump. In this relatively mild state of tune the 5.8-litre Ford V8 developed approximately 330bhp (DIN) whereas production cars (including the Pantera GTS, which had exactly the same engine) suffered progressively reduced power because of the USA's anti-pollution standards. Thus the stock motor produced around 300bhp (SAE) in 1971 but little more than 200 horsepower in the 1980s.

A lower final drive ratio for better acceleration was generally specified, and was for this particular car. Top speed, with a higher overall ratio, was 280km/h (175mph) but limited to approximately 250km/h (155mph) with the lower ratio. Closer intermediate ratios were also available for the ZF DS25/2 five-speed gearbox (in Group 3) and - as on all Panteras - the differential was of the limited-slip type. In 1973, the Pantera was probably the fastest Group 3 contender, its only shortcoming being brakes that were a little on the small side for competition work and thus prone to fading on circuits that necessitated frequent and heavy application. (Undoubtedly, it was the Pantera's arrival that prompted Porsche to hasten development of the 911, leading to the RS and RSR versions of the latter). Competition-specification brakes were not approved for the Group 3 Panteras until 1975 (and were available to special order on the production cars) but were not fitted to '2006' until its return to Europe in 2005.

In 1973, the car competed successfully in various events, and in particular the Tour de France crewed by Bernard De Dryver and Pierre Rubens. A minor accident at the Charade circuit, with Rubens driving, caused the later failure of a rear wheel hub, resulting in the car's retirement. Reinforced hubs (call 'mozzo verde' by the factory, because of their identifying green paint) were subsequently developed in Modena and homologated for Group 3.

In 1974, the Pantera was entrusted to Hervé Regout, a friend of Bernard de Dryver and himself an accomplished racer. Hervé contested the Belgian Championship, which combined cars of Groups 2, 3 and 4. Of the Championship's six or seven rounds, only two saw the Pantera fail to finish: on one occasion because of a dropped valve and on the other following an off-track excursion. For 1974 the Bang & Olufsen Pantera was partnered by 'Team Michel Vaillant' (of Editions Jean Graton) and finished that year's Belgian Championship in 2nd place overall. That same year Team B & O/M Vaillant also took part in the prestigious GT race supporting the Formula 1 French Grand Prix at Dijon, where Hervé finished a brilliant 3rd behind two works Porsches driven by Larousse and Haldi (two other Panteras finished 4th and 5th). At the end of the 1974 season, the B & O Pantera was sold to Paul Kawan and then to Gerard Marcy before passing to motor dealer, Michel Kruch, who exported it to the USA.

In 2005, its original importer, Claude Dubois, discovered this Pantera in California, noting to his great surprise that it was the famous Bang & Olufsen Group 3 racer. It was substantially as last raced – even the FIA-regulation external cut-out switch was still in place - and Dubois informed Bernard De Dryver of his acquisition.

The car subsequently passed to its current owner, who commissioned a total cosmetic and mechanical restoration that included replacing the engine. To Group 3 specification, the current unit produces more than 420bhp thanks to the use of modern components, despite retaining the Group 3-homologated hydraulic tappets. In addition, the car has been up-rated with the larger brakes (as fitted to the De Tomaso Longchamp and Deauville saloons) that had been approved back in 1975.
An aluminium plaque bearing the number '2006' is riveted to the bodywork behind the radiator and probably was fixed there during the car's stay in the USA. The aluminium plaque fitted by the official Belgian importer and carrying the car's identification numbers, the PVA number (Procès Verbal d'Agréation et homologation auprès du Ministère des Communications), the list of recommended lubricants and the name of the importer, Claude Dubois, is riveted in the same place and was put there before the car was delivered.
A modern modification in the form of two grille-covered vents in the bonnet has resulted in a notable improvement in the cooling system, permitting hot air to escape from behind the radiator. A similar modification was made to all Panteras in 1975, although less effectively than on this particular Group 3 car. The minor dents in the lower right corner of the bodyshell, visible when the engine cover is opened, are the result of Pierre Rubens' off-track excursion at the Charade circuit during the 1973 Tour de France and have been deliberately preserved.

The interior trim conforms to the original 1973 pattern, the dashboard and doors having been re-covered in correct black vinyl, while the new black carpets are likewise to original specification. The black carpeting in the front luggage compartment is perfect, and a high quality battery (Optima) is located in the original position. Its original bucket seats come with the car, which is currently equipped with two Recaro competition seats in 'as new' condition, plus Willans four-point racing harnesses. The original Group 3 factory roll cage is fitted and remains in perfect condition, while the dashboard instrumentation is original with the exception of a more accurate temperature gauge dating from 1973. Originally located underneath the engine cover and above the ZF transmission, the luggage bin has been removed to allow fast access to vital components, but will be delivered with the car. The original cooling radiator is available also, but has been replaced by a better-quality Fluidyne radiator of greater capacity.
The production model's steering column-mounted ignition key had been replaced by a switch on the centre console close to the driver's hand, a more practical location inside a competition car and typical of Group 3 custom. A main electrical cut-out switch is positioned on the lower dashboard, in front of the passenger, and also forms part of the factory Group 3 specification. The Belmog Twin MkII mechanical Tripmeter, specifically designed for use on classic rallies, was fitted prior to the 2006 Tour Auto.

Repainted in its original Bang & Olufsen livery and offered with a full and lengthy report prepared by respected Pantera historian and Le Mans racer, Claude Dubois, this historic Group 3 Pantera is currently in perfect running condition and comes with current FIA papers ready to resume its competition career with a fortunate new owner.