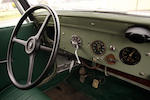 1941 CGE Type TB Cabriolet
Chassis no. 72
Seul exemplaire connu dans cet état, la CGE produite pendant la Seconde Guerre mondiale par la Compagnie Générale d'Electricité et l'ingénieur J-A Grégoire avait été achetée neuve par M. Clément, patron des batteries du même nom. Après la redécouverte de ce véhicule, complet, mais inutilisé pendant des années, un chantier de restauration fut lancé avec réfection du châssis de la carrosserie et reconstruction du moteur électrique et son environnement électromécanique. Après restauration en 1995 (voir le dossier), la voiture fut exposée au Musée de la Colline à la Défense, son propriétaire à l'époque, aux côtés des autres créations d'Aluminium Français/Péchiney et de Grégoire. À la fermeture du musée en 2000, la collection fut dispersée.

Dotée d'une direction à gauche, la CGE est peinte en vert avec intérieur assorti en cuir et capote en toile marron. Elle est vendue avec un chargeur de batterie d'époque (non installé) et possède sa carte grise française. C'est une des deux survivantes des quelque 200 voitures produites et la seule dans cet état, rare et historique témoin d'une technique du passé et, sans doute, annonciatrice du futur.



The potential of electrically powered vehicles continues to fascinate automobile designers, and never more so than today when the cost of fossil fuels and their associated pollution is of great concern. Indeed, electric vehicles have been around longer than those powered by the internal combustion engine - Scottish inventor Robert Anderson is credited with building a crude electric carriage in the 1830s while American Thomas Davenport patented the first practical electric motor in 1837 - and the example offered here dates from the days of WW2, a period when civilian fuel supplies were strictly curtailed, if available at all.

The CGE resulted from a meeting between a director of the Compagnie Générale d'Électricités (CGE), Pierre Quoirez, and Jean Albert Grégoire, who had designed the Tracta front-wheel drive car and, in collaboration with Aluminium Pechiney, produced cast aluminium chassis for the Amilcar Compound of 1938/39 (the Compound also used Grégoire's Tracta fwd system). Development of their proposed electric car began in 1939 and even at this early stage a system of energy recovery was under consideration. The project was officially launched in 1940 at the request of the French government, Hotchkiss being recruited to supply the bodywork and Tudor the batteries. Aluminium was chosen for the two-seater cabriolet bodywork because of its lack of weight and relative resistance to the corrosive effects of spilt battery acid.

The CGE was rated at 4hp for taxation purposes and carried its electric motor at the rear. Energy was supplied by two groups of eight traction batteries each, which were located at the front and rear of the car. The four-speeds-plus-reverse gearbox was foot operated, a light on the dashboard indicating to the driver what gear had been selected, while four-wheel drum brakes and perforated steel disc wheels completed the chassis specification.

The first car was completed in February 1941 and the following year a CGE set a new record, completing the journey from Paris to Tours (a distance of 250 kilometres) at the average speed of 58km/h (36mph). Allocated to civil servants, industrialists and other important citizens, the 200 cars produced each cost three times as much as a Citroën Traction Avant. With the return of cheap petrol after the War's end, the CGE was forgotten and only two are known to survive, serving as poignant reminders of difficult times.
The only example in this kind of condition, the CGE offered here was purchased new by Mr Clément (director of the Clément battery firm). After the rediscovery of the vehicle, which was complete but had not been used for many years, extensive refurbishment of the chassis and bodywork was undertaken and the electrical motor rebuilt. After the work's completion in 1995 (see file), the car was exhibited in the Musée de la Colline, its owner at that time, alongside others produced by Aluminium Plechiney and Grégoire. When this Museum closed in 2000, the collection was dispersed and the car changed hands.

Left-hand drive, the CGE is finished in green with matching leather upholstery and brown fabric soft-top. It comes with an in-period battery charger (not fitted) and is offered with French Carte Grise. One of only two survivors of the 200 made, and the only one in this condition, this CGE is both rare and historic, looking back to the earliest days of powered transport and – perhaps – forward to its future.